Ottel, Hofmaster,Ezrons Take Top Honors
Megacross Shootout Series
Mendota, Il
July 10th 1999
By Trackman
Wisconsin's speedster Dave Ottel took his DGY sponsored Suzuki's to the top of both the 125 and 250 expert classes on a clear and finally cool Saturday evening. In 125 main Ottel and Nielsen sponsored Junior Jackson had a back and forth battle for three laps, as in the bank turns Ottel would try to under cut Jackson time and time again. Later in the moto Jackson got a littlehigh and Ottel took the inside line, Jackson thinking that a quick over and under move would try to take back the lead only to miss by that proverbial inch and catch his front tire on Ottel's rear tire, Jackson soil sampled. Banzai Racing's Speedster Tommy Hofmaster was right in the thick of things when Junior went down Tommy took over the second position and was knocking on Ottel's door. Brad Jerominski had his Kaw humming and with Greg Braet in tow wouldn't let any of the front runners outa sight.
On lap 6 Hofmaster's 125 decides to lunch and Brad and Greg move up to get into podium position. Last lap, Jackson has been running hard after the earlier miscue and from dead last has got to fourth, in the last whoops section before the finish line
double, step up, Junior puts a killer inside move on Braet and takes third! Less then 50 feet separated 1st through 6th at the finish.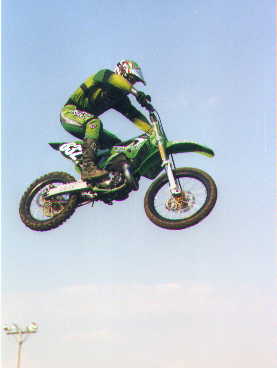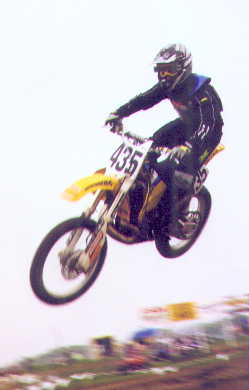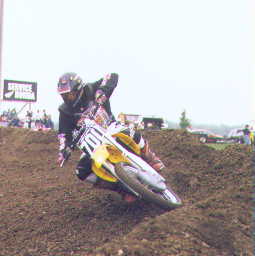 | | | |
| --- | --- | --- |
| Junior still can catch good air! | Tommy sets up for a corner in the air! | Eron goin to the high line! |
Tom Hofmaster wasn't going to go home empty handed on this nite, taking the holeshot in the 250 expert class and skimming the first set of doubles like they didn't exist. Eron Ezrons and his Banzai Suzuki got a rare but good second in the hole shot and kept the hard charging Ottel at bay til the checkers. Greg Braet finished fourth and Brad Jerominiski took the fifth.
Taking advantage of situations is always a critical point to motocross racing. Tonight was no exception as with Junior's 250 not recovered from Buffalo Range and the July 5th race, Eron gave a lesson in why bigger is better! Eron's 250 was to much for Junior on his 125 in the 25+ class. Junior rode hard and tried to make up the time but with the faster Megacross track this season it was to no avail. Service Honda rider Burton Lavens tried to take advantage of the small cc's also but Jackson kept the
corner speed to a blistering pace and would not let anyone one else by. Megacross regulars in the past, Paul Young and Bill Vivano made the trek up from St Louis area to take fourth and sixth.
In other action, Pro Source's Rusty Ott, had his thumper pounding the ground hard and stayed ahead of Rider's Choice's Dave Pucharich in the 35+ class. Another Pro Source Rider Mike Yenrich took the third. Service Honda Rider Roy Bitner finished
fourth.
Like to thank all that attended the series this season, don't forget the Megacross Championship/Rider appreciation event on July 31st! It comes with a free T-shirt to every rider, and also a cool dash plaque. Double Megacross points and some real nice things to give away for riders and spectators.



MENDOTA, ILLINOIS
July 10, 1999

+25
1) Eron Ezerins West Allis WI Suz 700
2) Junior Jackson Moline IL Kaw 832
3) Burton Lavens Oglesby IL Hon 16
4) Paul Young Belleville IL Suz 8
5) Jason Urban Gurnee IL Yam 698
6) Bill Viviano Suz 121
7) Jason Bardoner Genoa IL Hon 439
+30 A
1) Paul Young Belleville IL Suz 8
2) David Pucharich Oglesby IL Hon 27
3) Scott Miller Warrenville IL Hon 3
4) Bill Viviano Suz 121
+30 B
1) Tim Lancaster Joliet IL Yam 83
2) Craig Calsyn Princeton IL KTM 62
3) Kevin Lee Lamoille IL Hon 2
4) Mark Wright Dixon IL Hon 95
5) Roy Bittner Peotone IL Hon 6
6) Sam Esposito Aurora IL Yam 465
7) Richard Monce Peoria IL Hon 147
8) Darin Grubisic Aurora IL Hon 103
+35
1) Rusty Ott Geneva IL Yam 44
2) David Pucharich Oglesby IL Hon 27
3) Michael Yenerich New Lenox IL Yam 107
4) Roy Bittner Peotone IL Hon 6
125 A
1) David Oettel Salem WI Suz 757
2) Brad Jerominski Woodstock IL Kaw 947
3) Junior Jackson Moline IL Kaw 832
4) Greg Braet Moline IL Suz 165
5) Eron Ezerins West Allis WI Suz 700
6) Jeremy Bardoner Genoa IL Yam 138
7) Grant Mccabe Minooka IL Suz 130
DNS Thomas Hofmaster Pearl City IL Suz 435
DNS Chad Johnson Kaw 35
125 B
1) Brad Modjewski Hatley WI Suz 458
2) Andrew Thyberg Mc Connell IL Suz 47
3) Roy Horton Jr South Holland IL Suz 60
4) Brandon Petty Hillsboro IL Yam 43
5) Kyle Lowe Ottawa IL Suz 92
6) John Conley Sugar Grove IL Hon 159
7) Steve Howell Monroe Center IL Kaw 25
8) Joseph Kopecky Lombard IL Suz 131
9) Chad Johnson Rockford Hon 159X
10) Doug Harms Rochelle IL Kaw 173
11) Brandon Boggio Hennepin IL Yam 311
DNS Glenn Manning Ottawa IL KTM 158
125 C
1) Joseph Davis Jr Orland Hills IL Yam 164
2) Daniel Gustafson Kingston IL Hon 22
3) Casey Solace Lena IL Suz 19
4) Luke Kasynski Peru IL Kaw 47
5) Nick Katz Des Plaines IL Suz 39
6) Jeremy Estes Streator IL Suz 53
7) Matt Bruck Ottawa IL Hon 4X
8) Brandon Verchimak Streator IL Suz 171
9) Jeremy Petoskey Oswego IL Hon 144
10) Justin Treder Whitewater WI Hon 147
11) Jeremy Hale Rochelle IL Hon 117
12) Wesley Love Dixon IL Hon 265
13) Sam Esposito Aurora IL Yam 465
14) Jason Hoyer Pecatonica Hon 30
15) Joshua Spence Ottawa IL Yam 32
DNS James Schuster Princeton IL Hon 222
DNS David Deringer Lake Geneva WI Suz 4
14*24
1) Andrew Thyberg Mc Connell IL Suz 47
2) Chad Pistole Ohio IL Yam 360
3) Eric Foltynewicz Mendota IL Yam 168
4) Joseph Davis Jr Orland Hills IL Yam 164
5) Luke Plym Seatonville IL KTM 61
6) Jared Skinner Romeoville IL Hon 84
7) Brandon Boggio Hennepin IL Yam 311
8) Ryan Singler Plainfield IL Kaw 89
9) Japeth Suslee Nokomis IL Yam 140X
10) Wesley Love Dixon IL Hon 265
DNS Glenn Manning Ottawa IL KTM 158
DNS Chad Johnson Rockford Kaw 159
DNS David Hughes Rockford IL Hon 420
DNS Jacob Mc Cullough Ottawa IL KTM 9
DNS Joshua Skinner Schaumburg IL Yam 82
250 A
1) Thomas Hofmaster Pearl City IL Suz 435
2) Eron Ezerins West Allis WI Suz 700
3) David Oettel Salem WI Suz 757
4) Greg Braet Moline IL Suz 165
5) Brad Jerominski Woodstock IL Kaw 947
6) Joshua Pistole Ohio IL Yam 696
7) Burton Lavens Oglesby IL Hon 16
8) Todd Mayer Waukegan IL Suz 796
9) Grant Mccabe Minooka IL Suz 130
10) Brian Clark Burlington WI Suz 557
11) Nate Eslinger Ottawa IL Yam 45
12) Skee Hartmann Princeton IL Hon 147
DNS Chad Johnson Kaw 35
250 B
1) Mike Spencer Sterling IL Suz 648
2) John Conley Sugar Grove IL Hon 159
3) Steve Howell Monroe Center IL Kaw 25
4) Chad Pistole Ohio IL Yam 360
5) Eric Foltynewicz Mendota IL Yam 168
6) Jason Bardoner Genoa IL Hon 439
7) Daniel Caldwell Kingston IL Kaw 41
8) Jared Skinner Romeoville IL Hon 84
9) Mark Wright Dixon IL Hon 95
10) Donald Sheridan Dixon IL Yam 6
11) David Hughes Rockford IL Hon 420
12) Japeth Suslee Nokomis IL Yam 140X
13) Joshua Skinner Schaumburg IL Yam 82
250 C
1) Stan Simmons Streator IL Hon 184
2) Adam Quest Sublette IL Kaw 214
3) Brian Gorzway Morrison IL Yam 95
4) Ryan Singler Plainfield IL Kaw 89
5) Zach Verchimak Ancona IL Yam 295
6) Tadd Hammerion Ladd IL KTM 103
7) Mike Bruck Ottawa IL KTM 9
8) Richard Schroeder Batavia IL ??? 501
9) Jon Seeste Clinton WI Hon 10
10) David Gustason Lena IL Kaw 172
11) Chris Politsch Mendota IL Kaw 96
12) Samuel Seghi Yam 307
DNS Nicholas Christman Mendota IL Yam 140
4-WHEEL
1) Paul Marshall Winnebago IL Hon 92
2) Jesse Sacia Pecatonica IL Hon 19
3) Roy Schaefer Wonder Lake Hon 227
4) Randy Schaefer Wonderlake IL Hon 107
5) Robert Brown Des Pllaines IL Hon 711
6) Richard Zipse Leaf River IL Hon 50
7) Mark Pitzka Waukesha WI Hon 154
8) Chuck Schaefer Mchenry IL Hon 56
9) Kelly Gray Hon 24
10) Curtis Rients Superior IL Hon 87
11) Nick Hoffman Sublette IL Hon 111
12) Jeff Zipse Leaf River IL Hon 29
13) Todd Schmdlinger Spring Valley IL Yam 12
14) Vinny Dzierzynski Ladd IL Hon 31
15) Josh Mussatto Marseilles IL ??? 22
DNS Meril Ward Rockton IL Yam 11
DNS Doug Reed Peru IL ??? 80
DNS Jason Rollinger Pecatonica IL Hon 77
50 JR
1) Joshua Paris Roscoe Cob 18
2) Steven Page Cob 94
3) Damon Sexton Kirkland IL KTM 38
4) Durk Roper Winnebago IL KTM 93
5) Jason Paris Cob 19
50 SR
1) Joseph Tarver Des Plaines IL Kaw 23
2) Tyler Baylis Somonauk IL Poi 96
3) Vaughn Mays Mchenry IL Cob 81
4) Kyle Frasca Seneca IL Cob 43
5) Drew Yenerich New Lenox IL Poi 17
6) Eric Gustason Lena IL KTM 4
7) Ricki Williams Streator IL KTM 60
65
1) Jake Fricker Lockport IL Kaw 22N
2) Greg Ratliff Bridgeview IL Kaw 15
3) Ty Tyrrell Winslow IL Kaw 14
4) Jacob Kenyon Stillman Valley IL Kaw 69
5) Joseph Tarver Des Plaines IL Kaw 23
6) Edward Martin Ottawa IL KTM 37
7) Cody Krause Orland Hills IL Kaw 53
8) Kyle Frasca Seneca IL Cob 43
9) Derek Ford Mchenry IL Kaw 987
10) Vaughn Mays Mchenry IL Cob 81
11) Zach Calvert Ottawa IL Kaw 30
12) Drew Yenerich New Lenox IL Poi 17
DNS John Shafner Sheffield IL Kaw 54
85JR
1) Jake Fricker Lockport IL Kaw 5
2) Andrew Tyrrell Winslow IL Suz 1
3) Matt Stokes Stillmanvalley IL Suz 42
4) Casey Profita Suz 28
5) Greg Ratliff Bridgeview IL Suz 15
6) Joshua Jeffery Orland Park IL Hon 333
7) Timothy Sims Moline IL Hon 88
8) Chris Sarver Dixon IL Kaw 75
85SR
1) Brad Modjewski Hatley WI Suz 14
2) Shawn Clark Montgomery IN Suz 56
3) Roy Horton Jr South Holland IL Suz 60
4) Tad Tyrrell Winslow IL Suz 41
5) Eric Ratliff Bridgeview IL Suz 48
6) Ryan Poulter Prophetstown IL Suz 2
7) Partick Profita Salem Suz 32
8) Eddie Sims Moline Hon 55
9) Brian Davey Ottawa IL Kaw 119
DNS Cody Kraut Henderson MN Hon 197
OPEN/4-STROKE
1) Rusty Ott Geneva IL Yam 44
2) Cory Snow Morrison IL Yam 67
3) Scott Miller Warrenville IL Hon 3
4) Craig Calsyn Princeton IL KTM 62
5) Shawn Christen Sublette IL Hon 214
6) Nicholas Christman Mendota IL Yam 140
7) Shawn Mikolaitis Marseilles IL ??? 640
8) Richard Schroeder Batavia IL ??? 501
DNS Jeff Morey Montgomery IL Hon 939