Second Moto Open Pro Start!
Big Bores shake Buffalo Range
By Merle Acord
Midwest Battle of the Big Boars!
OTTAWA, IL JULY 5, 1999
Junior Jackson, the Moline Missile, borrowed a big bore Yamaha, to ride in the July 5th Megacross Suzuki, Outdoor Pro-Am Midwest battle of the Big Boars and came away with two moto aces and top money in the Open class. The next three finishers, also on borrowed equipment, Scott Davis,on a perimeter frame CR500 from Service Honda 3-2, Tom Hofmaster, 2-3,Honda and Brandon Bartz, 4-8, Yamaha.
"Today, we plan on bringing you one of the most exciting day of motocross that you have seen in a long time," said Megacross promoter Gerhard Ward. "Open class riders, 500cc two stroke and 400cc four stroke, have long been the elite class and in Europe are still the Premier class, but over the last ten years, in the states, this class has become the forgotten ones. That is going to change starting today with our first annual Midwest battle of the big bores. Would like to thank the good folks at Buffalo Range for allowing us to hold this event at their facility, a track that suits this type of event perfectly. Buffalo Range is open nine months out of the year for open riding six days a week; Closed on Tuesday. Thanks also to Service Honda for the mountain of door prizes given away at intermission."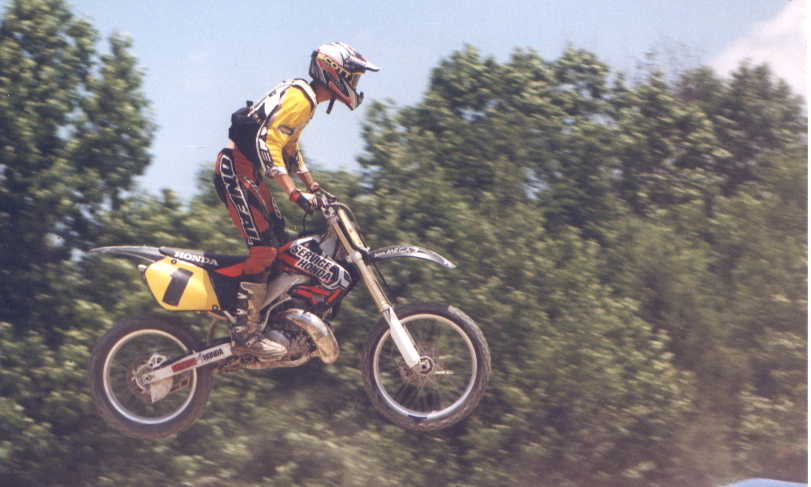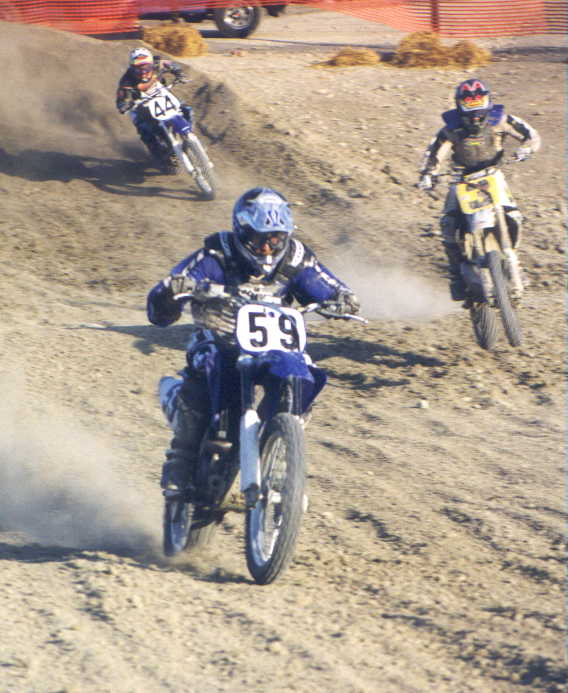 | | | |
| --- | --- | --- |
| Scott Davis Airin out big bore perimeter frame cr 500 honda, Davis got back after the first moto and stated,"man that things hauls!" | | Pro Source Riders, Nate Eslinger and Owner Rusty Ott puttin the heat on Banzai's Tom Hofmaster, All did top five in the second Moto of the Open Pro Class Battle. |
Four hundred and fifty riders from the Midwest and as far West as California signed on for the First Annual Battle of the Big-Boars.
Californian Scott Davis out of Yuba City on a Kawasaki, took the hole shot in the first moto of the 250A class with Tom Hofmaster, on a Banzai Suzuki, at his number plate. Davis, by the second lap, pulled a little breathing room as the war waged behind him for second and third. Ryan Clark, on a R&S Dragon-Kawasaki, out of Albuqueque, New Mexico, with an eleventh place start, kept picking them off to close on Hofmaster and take over second with three laps left in the seven lap event. Davis held his lead. Junior Jackson was making a bid for the lead when his Nielsen Enterprise Kawasaki threw a rod putting him on the side lines. Greg Braet, a solid fourth on a Brenny's Yamaha waited for a mistake that never happened.
In moto two Clark was first off the line and that was all she wrote folks. When the field went under the wire Clark had a comfortable five second lead and the overall gold. Local favorite, Tom Hofmaster had a fifth place start and was closing fast when he went into a sharp right hander, out back, a little hot. Blew the corner went over the bar and did a helmet field test. Its still up for debate, did the helmet pass or fail? Tom is ok but the brain bucket sustained a crack. Tom said, "I say it passed. I have lumps and bumps on other parts of my body from the crash, but the head is okay. This is the second helmet they have replaced for me this season." Braet moved up to third behind Davis for third overall. Kenny Bartram, of Stillwater, Oklahoma, on a KTM was fourth followed by Brad Jerominiski.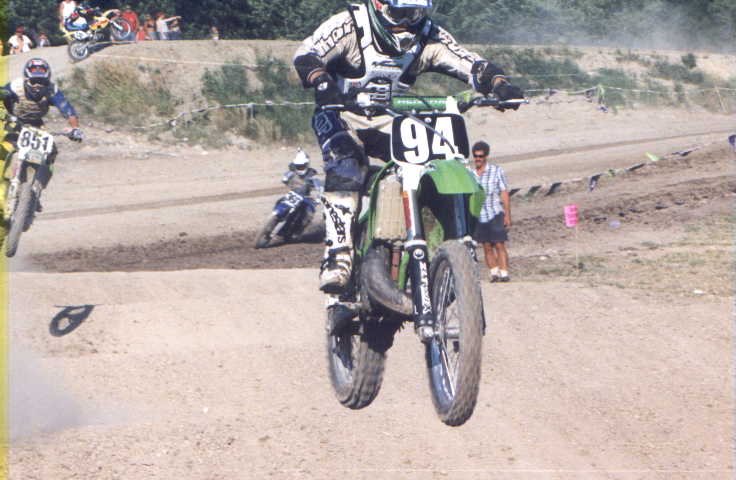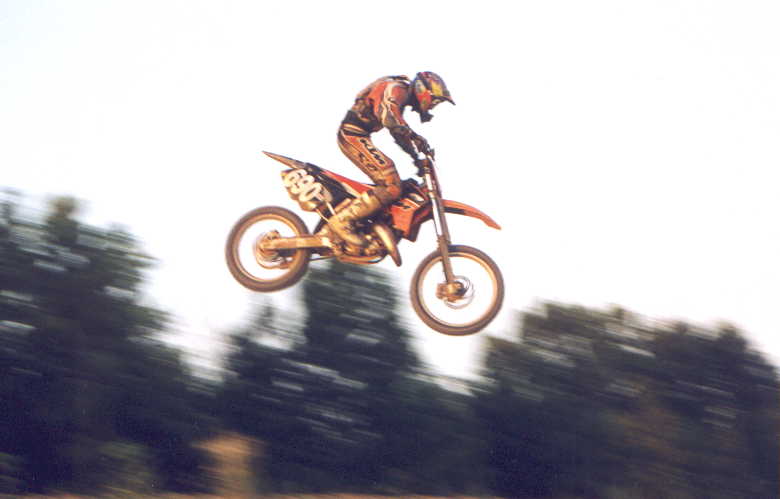 | | | |
| --- | --- | --- |
| Ryan Clark never looked back in the second moto, Davis (851) kept Clark in sight but stayed about the same distance in the 250Pro second moto. | #851 Scott Davis and #360(Iowa speedster) Austin Raubs kept Clark honest in the second moto. | Kenny Bartram got a slow start but in the second moto 125 Pro was plain haulin!! |
Junior Jackson won moto one in the 125A class. "I can't believe I got the hole shot in the 125A class," said Neilsen Enterprise sponsored Junior Jackson. "I got the hole shot in the second moto too, but I bumped handle bars with Austin Raub, (Yamaha
Cedar Rapids, Iowa)when we came off the line and when I went into that tight right hand before the big uphill, I reached for the brake and there wasn't any. I had broken the hydraulic line. I was way too hot for the corner, but hey! I thought I could make itc I couldn't the front end went away. Without brakes and dead last, I just pulled off."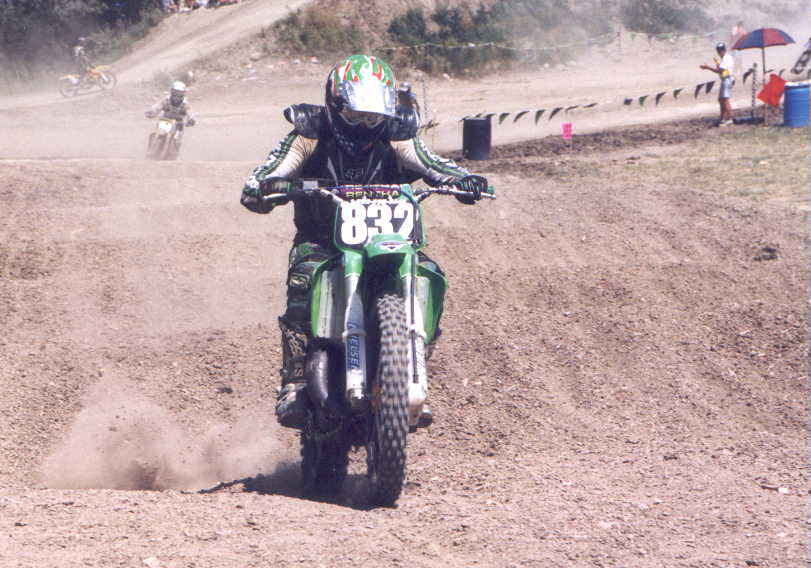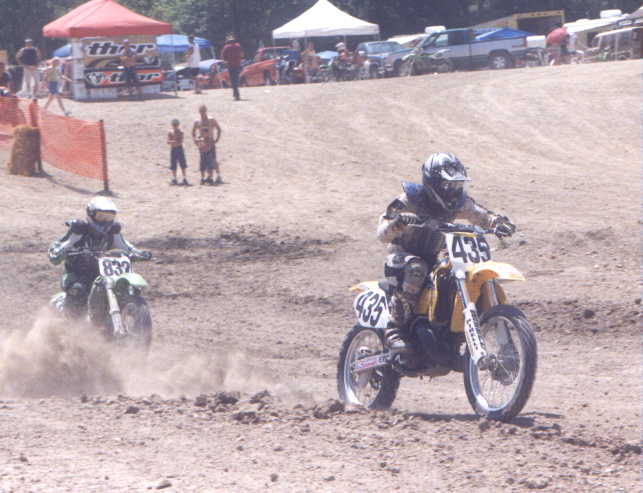 | | | |
| --- | --- | --- |
| Nielsen's Junior Jackson was gone in the first 125 Pro moto, In fact Ryan Clark here in this picture was the closet he got, Junior was flyin on this hot summer day. | If not for some bike problems Junior would have put a schoolin on the Pro's here this day. Its no wonder they always say "jump for show but corner for dough!" | Banzai's Star rider Tom Hofmaster showin Junior some lines in the 25o Pro 1st Moto, in the next lap Juniors Kaw dropped a crank and was done in that class for the day. |
Bartram had problems in moto one of the 125A's; coming off the line around fifteenth and working up to fourth where he ran out of time. In moto two the Stillwater, Oklahoman made some waves, off the line third but nailing the first place slot before the end of the first lap and kept his K-Style KTM on the point. Austin Raubs, made a bid in the later laps to put his Midwest Performance & Power Yamaha in the second slot and third overall behind Ryan Clark. Hofmaster carded 3-4 finshes for fourth overall with Braet's 7-5 motos good for fifth overall.
Dustin (Dusty) Crow, from Peoria, Illinois, on a Suzuki eclipsed the 125C1 class with wire to wire wins and philosophically said, "Next season I'll move up to the B class and continue to do what I'm doing now." Arraiduz Kruk was second with Jeremy Este third.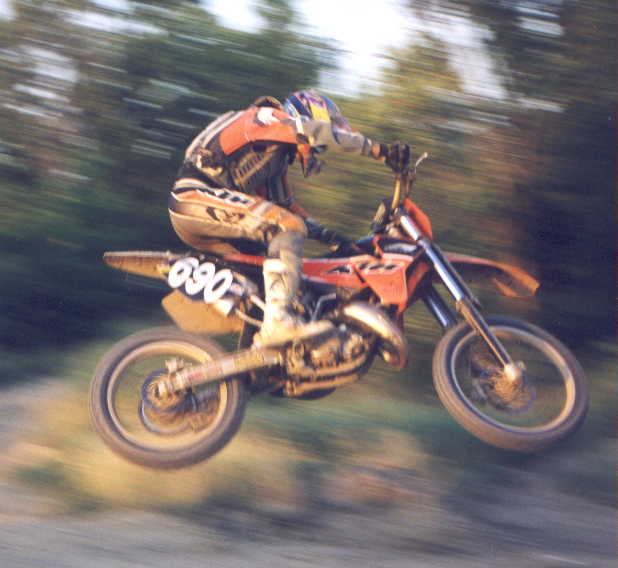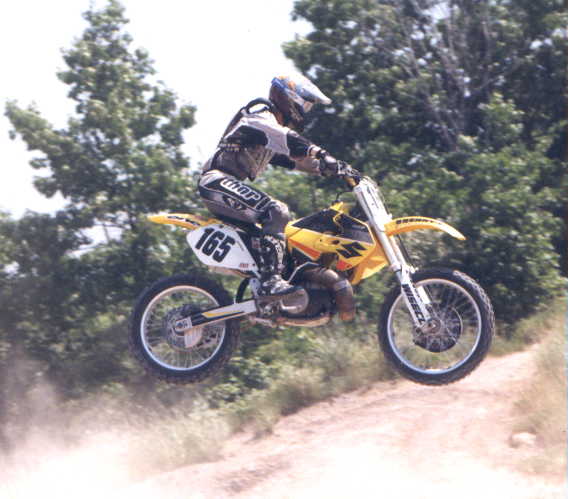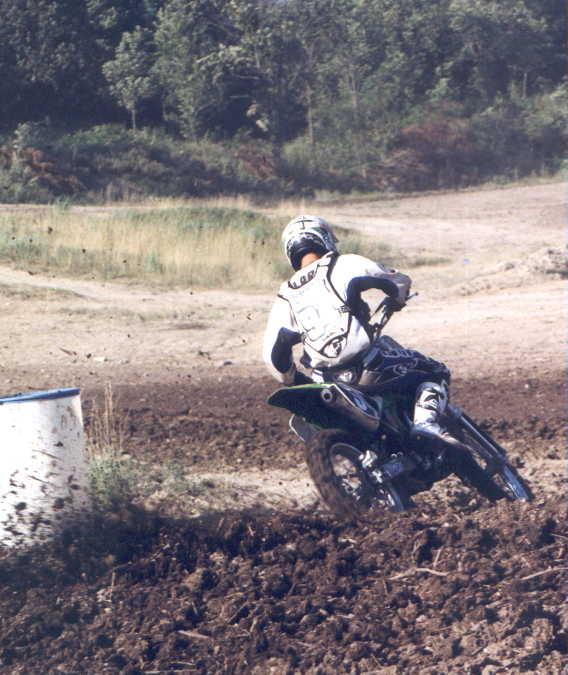 | | | |
| --- | --- | --- |
| Bartram was the man in the second moto 125 Pro. | Local Hero Greg Braet did some fine riding to take home a 3rd overall in 250 Pro. | Ryan Clark took the lead in the second moto 250 pro.This is all that was seen by his competitors. |
Thomas Tegtmeier carded 1-2 places in the 125C2's for his overall with Robert Nunn 2-3 second. Joe Davis finished fourth overall with a 10-1 card and said "I had a terrible first moto, crashed and was lucky that I was able to get back to tenth. In the second moto I got a fair start and took over the lead in the first lap." When asked why he didn't go to Loretta Lynn's this season Joe said simply, "I didn't feel I was ready." (Editor note: You ride like you're ready Joe.)
Jimmy Randa on a Pro-Source Yamaha got out front in the first moto of the 30A and never looked back, if he had he would have seen the patient Bill Bowman on his Decatur Power Sports Kawasaki. The waiting game paid off for Bowman, in moto two Randa was again the front runner but exuberant watering to control the dust problem turned the dust to mud on a couple of corners and Jeff Way, while attempting a pass, went out of control and took Randa out. Randa played catch up but could do no better than third, but still good for second overall. The cool Bowman kept right on motoring and carried it to the wire for the moto win and the overall. Scott Ballard, on a Pro-Source Yamaha, with 3-2 motos was third overall. "I had a bad start in moto one," said Bowman "So I just rode smooth worked up to second. It paid off when Randa and Way took each other out and gave me the lead in the second moto."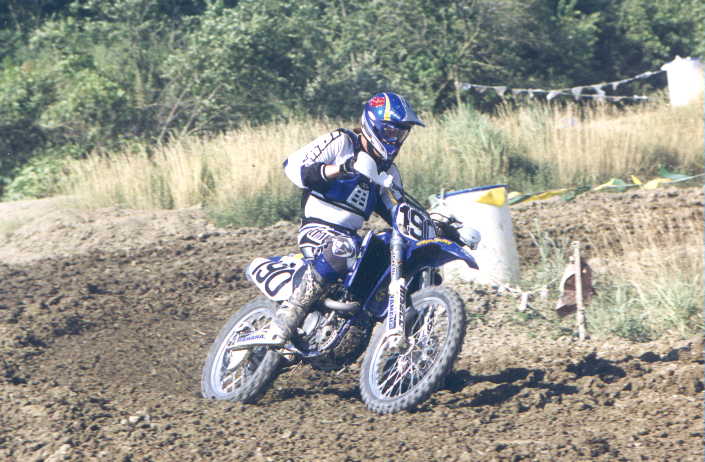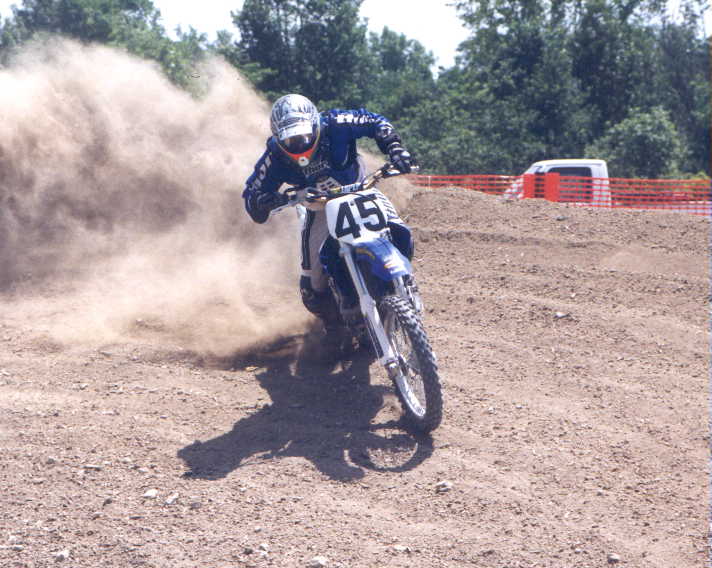 | | | |
| --- | --- | --- |
| Pro Source's Scott Ballard (190) is riding well this season.This being his second year on the Thumper, he seems to be gettin along with it real well. | Hot, Hot, Hot, was the racing action and with temps in the high 90's and humidity around 95% it was a grueling day! | Another Pro Source rider Jimmy Randa had a so so day, Crashes kept him from some good Open pro finishes. |
Andy Thyberg, from McConnell, Illinois on a hard running Suzuki aced both motos in the 125B class then came back in the Schoolboy class for another pair of aces and a perfect afternoon. Andy said, "In the first moto of the 125B's I had a good start but I didn't get the lead until the second lap. In the second moto I was up front again and was able to get the lead before the end of the first lap. I plan on going to Loretta Lynns then I'll move up to the A class next year."
Rusty Ott, on one of his own Pro-Source 4/Stroke Yamaha, rode fast and smooth in the plus 35 class with Bill Bowman tight on his rear fender. Ott, multi-District 17 Champion in all classes cannot be intimidated. "Bill let me know he was there," said a smiling Ott, "So I just held my lines and relaxed. I've been battling Bill for a while now, and if I was going to make a mistake itwould have been today."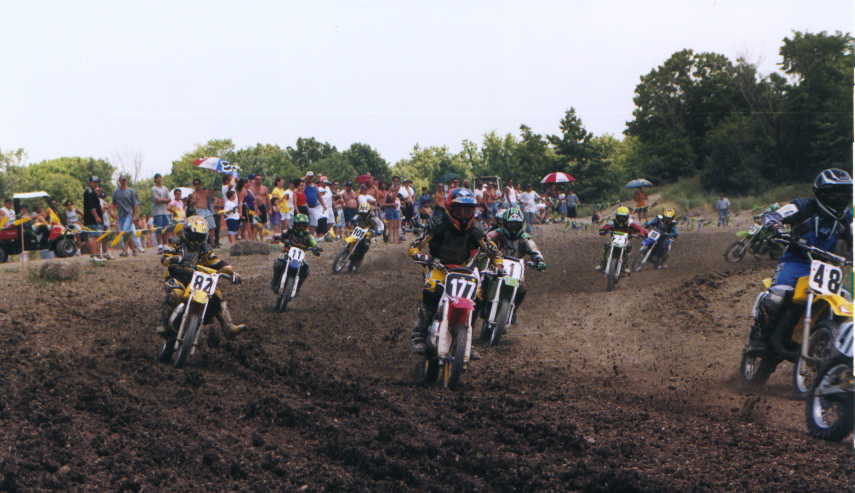 #41 Tyrell (lower right hand corner) Junior Jackson protege Kyle Garro #177, Ratliff #48 along with Danny Biba #82

Tad Tyrrell got the hole shot in the 85 Seniors but Kyle Garro motored around in the first corner and went on to win that moto with Tyrrell second and Eric Ratcliff of Bridgeview, Illinois third. Tyrell got another hole shot in moto two and this time he held it. Garro with motor trouble dnf. Ratliff carded duce and picked up a second overall with Dustin Curley 5-3 third overall. "I had both holeshots," said Tyrell, "But he (Garro) got around me in the first corner. In the second moto I never gave up the lead and went all the way."
Jake "The Snake" Fricker, double moto winner in the 85 juniors, said, "No problems." The diminutive ten year old with the hot throttle hand was more excited about qualifying for Loretta Lynns. "I went last year but it was a big mud bath. It was so bad that we ran kind of an oval off the main track. Sure hope its better this year."
"You guys are punishing me big time," said 250 C winner Shawn Palade, Derwyn, Illinois who had just ridden a Honda to a pair of aces for the overall. "Hey, I'm 30 years old, not one of the new breed, but it was fun."
Jason Brewington, earned his overall the hard way, he earned it. Third off the line in moto one and an early crash left Brewington deep in the pack. He kept pick'n and pass'n and when the checkers fell he had the lead. Moto two was even closer, he didn't get the lead until the last lap with the finish line already in sight. Jason said, " I would like to thank Owen Honda Suzuki and my Dad for making all this possible."
Greg Ratcliff aced both motos but had to get around Philo Petricig Kawasaki to do it. Philo, the lone girl in a field of 27 guys, pulled the second moto hole shot and posted 6-2 finishes for third overall. Jason Minnaert of Geneseo, Illinois was second overall with a 3-3 card. Don't be misled by the long eyelashes and the cute smile, Philo, from Maple Park, Illinois, despite her tender years, is a five year veteran and doesn't care if you're a boy or girl and will do what it takes to beat you.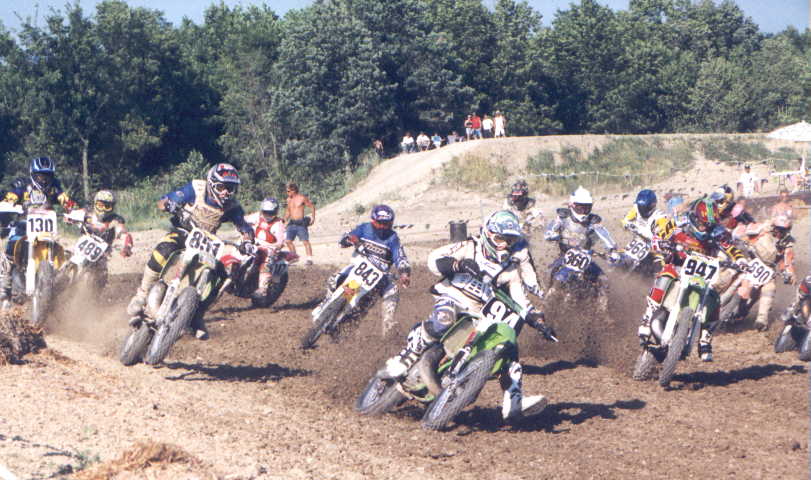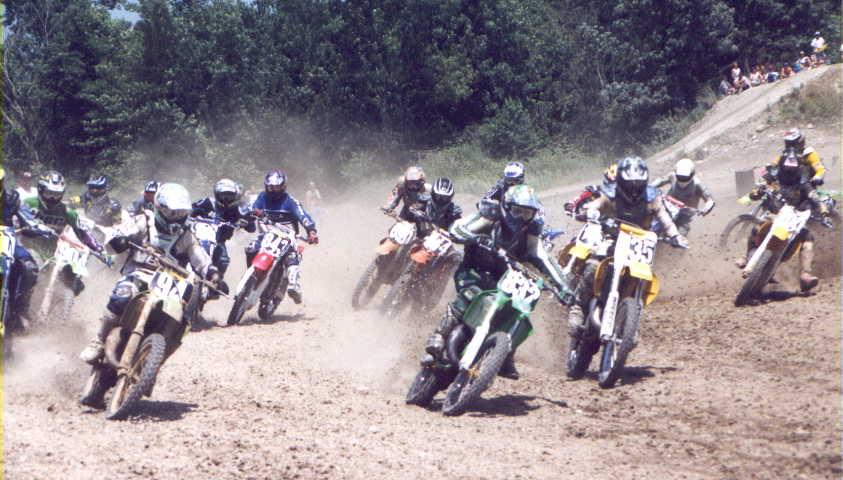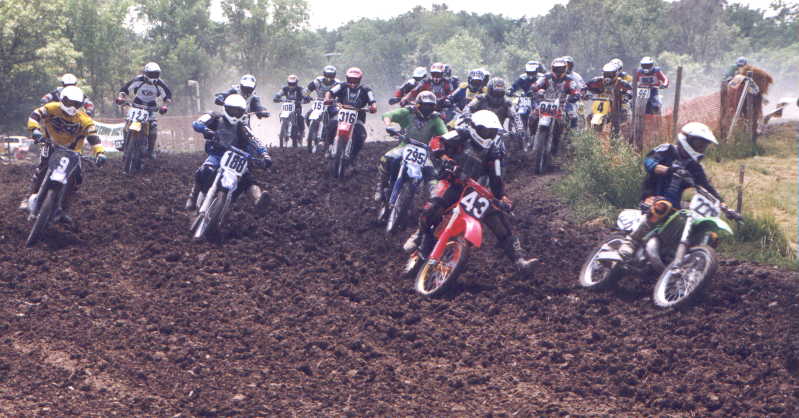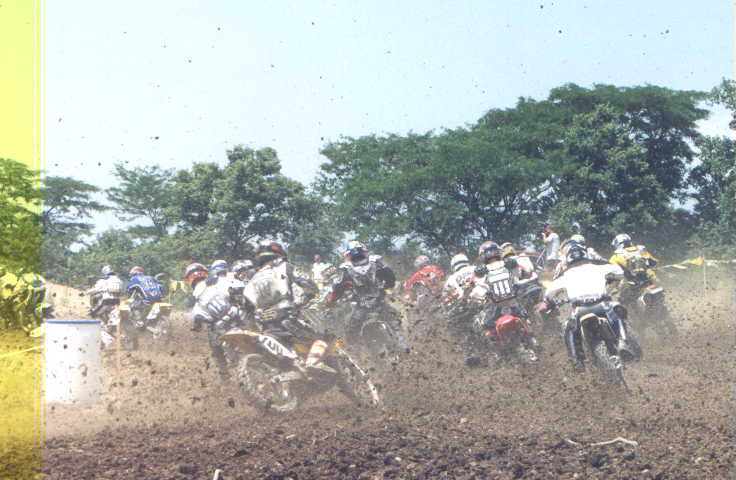 If you where forunate enuf to get a good start then it looked great!, But as you can see in the back of the pack a wall of dirt is the only thing visable for the not so forunate starters.

MIDWEST BATTLE of the BIG BOARS
Ottawa, IL
MEGACROSS
MOTO PRO Inc.
July 5, 1999

Thanks alot to all that attended it was a great time! Hot, Dusty, and little long but next year will be bigger and even better!!
We have alot of plans for this event in the future, might have a earlier date to avoid the heat, along with some real cool changes to the track and race facility! See Ya next year for the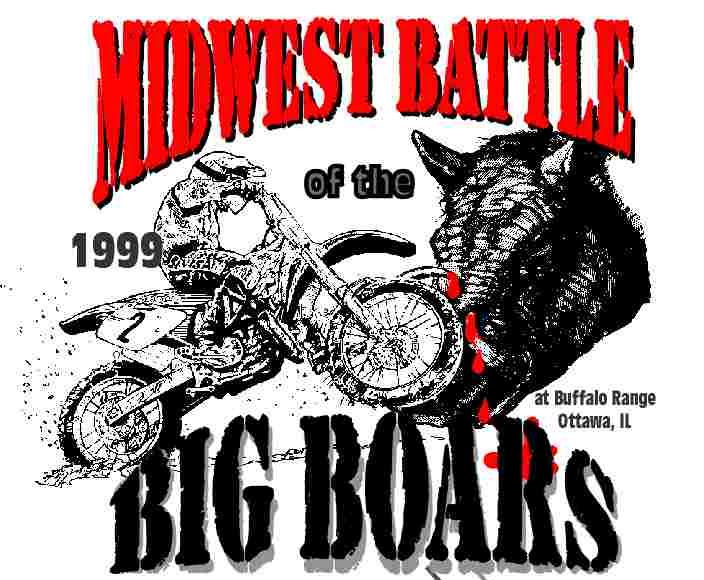 +35
1) Russell Ott Geneva IL Yam 44
2) William Bowman Argenta IL Kaw 187
3) Michael Yenerich New Lenox IL Yam 107
4) Jeff Way Burlington WI Yam 468
5) Robert Schenick Streamwood IL Yam 54
6) Eriks Ezerins West Allis WI Hon 711
7) Richard Poplawski Millbrook IL Yam 2
8) Michael Dudowicz Liksle IL Yam 12
9) Nicholas Christman Mendota IL Yam 140
10) Paul Mulligan Yorkville IL Suz 227
11) Greg Hazdra Naperville IL Yam 17
12) Dan Baird St Charles IL Yam 43
125 Pro
1) Kenny Bartram Stillwater OK KTM 690
2) Ryan Clark Albuquerque NM kaw 94
3) Austin Raubs Cedar Falls IA Yam 360
4) Thomas Hofmaster Pearl City IL SUZ 435
5) Greg Braet Moline IL Hon 165
6) Brandon Bartz Colona IL Yam 966
7) Brad Jerominiski Woodstock IL Kaw 947
8) Scott Davis Yuba City CA Kaw 851
9) James Abbott Trivoli IL Kaw 707
10) Ashley Harrier Danville IL KTM 244
11) Jeremy Brewington Paris IL Hon 489
12) Eron Ezerins West Allis WI Suz 700
13) Jeremy Bardoner Genoa IL Yam 138
14) Dane Grivicic Dyer IN Yam 693
15) Brandon Slagger Yam 917
16) Justin Carter Corpus Christi TX Suz 172
17) Matthew Slager Mokena IL Yam 541
18) Nicholas Spierowski Farmington IL Hon 843
19) Junior Jackson Moline IL Kaw 832
20) Michael Cole Wayland MI Kaw 904
21) Grant Mccabe Minooka IL Suz 130
22) Bill Loy Mokena IL Kaw 161
23) Michael Yenerich New Lenox IL Yam 107
24) Tim White Oswego IL Yam 77
25) Jeff Schmidt Mchenry IL Yam 876
125B
1) Andrew Thyberg Mc Connell IL Suz 47
2) Greg Hochmuth Pewaukee WI Suz 911
3) Glenn Manning Ottawa IL KTM 158
4) Todd Mencius St Charles IL Suz 19
5) Bryan White New Lenox IL Kaw 96
6) Jason Brewington Paris IL Hon 489
7) John Mazur Burbank IL Suz 26
8) Kyle Garro Princeton WI Hon 177
9) Christian Rau Valparaiso IN Yam 335
10) Keith Petro Mokena IL Hon 290
11) Kyle Lowe Ottawa IL Hon 92
12) Clint Lawrencce Lerna IL Yam 346
13) Hanson Turnbull Ixonia WI Hon 130
14) Steve Howell Monroe Center IL Kaw 25
15) Myles Donnell Mattoon IL Suz 66
16) Christopher Wagner Rockton IL Kaw 217
17) Mark Mason Marseilles IL SUZ 607
18) Brandon Boggio Hennepin IL Yam 311
19) Mike Wolfgram Janesville WI Yam 191
20) Rob Stout Moline IL Hon 24
21) T C Wilcoxen Marseilles IL Yam 78
22) Jeremy Bollino Braidwood IL Kaw 243
23) Matt Walraven St Charles IL Suz 118
24) Michael Grebner Washburn IL KTM 52
25) Michael Busby Leland IL Yam 110
26) David Paul Mattoon IL Kaw 767
27) Austin Halterman Ottawa IL Yam 154
125C 1
1) Dustin Crow Peoria IL Suz 501
2) Arradiusz Kruk Chicago IL Yam 4
3) Jeremy Estes Streator IL Suz 53
4) John Kresser Plainfield IL Suz 27
5) Jeffery Middleton Streator IL Suz 85
6) Jeremy Mccoy Streator IL Kaw 23
7) Chris Petro Orland Hills IL Suz 36
8) Sean Hamblen Beason IL Hon 24
9) Mike Butler Seneca IL Yam 29
10) Lukus Leandya Cambridge IL Suz 427
11) Jeremiah Lotz Metamora IL KTM 22
12) Nathan Bremer Gary IN Hon 9
13) James Ricci Glenwood IL Suz 162
14) Doug Supernant Hon 28
15) Brian Brinker Metamora IL Yam 11XX
16) Ben Evans Washington IL KTM 11
17) Chad Stach Cambridge IL Yam 24X
18) Travis Mciver Schaumberg IL Kaw 14
19) Marc Steketee Oswego IL Suz 107
20) Jon Zimmerle Medinah IL Hon 10
21) Joe Naessler Suz 11X
125C 2
1) Thomas Tegtmeier Elburn IL Yam 129
2) Robert Nans East Peoria IL Kaw 69
3) David Degelau Ashton IL Kaw 157
4) Joseph Davis Orland Hills IL Yam 164
5) James Holub Oak Lawn IL Hon 294
6) Rob Feller Woodstock IL Yam 597
7) Luke Kaszynski Peru IL Kaw 47
8) Jeremy Smith Geneseo IL Yam 188
9) Ross Ploeckelmann Glen Ellyn IL KTM 111
10) Samuel Esposito Aurora IL Yam 465
11) Mark Snyder Mokena IL Yam 184
12) Kyle Moellering Elburn IL Yam 510
13) Brandon Verchimak Streator IL Kaw 171
14) Randy Bond Woodstock IL Yam 45
15) Richard Haney Schumburg IL Yam 904
16) Jeff Oldenburg Ottawa IL Yam 111X
17) Jeremy Petoskey Oswego IL Hon 144
18) Kyle Gronewold Chillicothe IL Hon 293
19) Jesse Evans Palatine IL Hon 587
20) Troy Merkel Bettendorf IA Yam 245
21) Jason Schmidt Mc Henry IL Yam 174
22) Douglas Caldwell Orfordville WI Yam 253
23) Robert Kalina Metamora IL KTM 91
24) Chancelor Kitts Tinley Park IL Kaw 226
25) Andrew Sychra Wahington IL Suz 214
26) Drew Spratt Walnut IL Hon 12
27) Tom Nonkus Mokena IL Kaw 99
28) Richard Beake Ingleside IL Yam 344
29) Nick Sherman Spring Valley IL Hon 147
14-24
1) Matthew Slager Mokena IL Yam 541
2) Eric Foltynewicz Mendota IL Yam 140
3) Christian Rau Valparaiso IN Yam 335
4) Josh Decker Clinton IL KTM 74
5) Hanson Turnbull Ixonia WI Hon 130
6) Bear Reynolds Ocononowoc WI Hon 60
7) Christopher Wagner Rockton IL Kaw 217
8) Jeremy Estes Streator IL Suz 53
9) Randy Bond Woodstock IL Yam 45
10) Brandon Verchimak Streator IL Kaw 171
11) Jeffery Middleton Streator IL Suz 85
12) David Paul Mattoon IL Kaw 767
25+
1) Jeff Hill Dekalb IL Kaw 10
2) Ted Cieminski Clinton IA Kaw 971
3) Keith Reiner Tinley Park IL Yam 726
4) Burton Lavens Oglesby IL Hon 16
5) Dave Gaidamuice Alsip Il Yam 21
5) Rick Grebner Washington IL KTM 28
6) Travis Schnowske Cambridge IL Kaw 427
7) Jeff Oldenburg Ottawa IL Yam 111
250 Pro
1) Ryan Clark Albuquerque NM KAW 94
2) Scott Davis Yuba City CA Kaw 851
3) Greg Braet Moline IL Hon 165
4) Kenny Bartram Stillwater OK KTM 690
5) Brad Jerominiski Woodstock IL Kaw 947
6) Brandon Bartz Colona IL Yam 966
7) Eron Ezerins West Allis WI Suz 700
8) Ashley Harrier Danville IL KTM 244
9) Jeff Hill Dekalb IL Kaw 10
10) Thomas Hofmaster Pearl City IL ??? 435
11) Jeremy Brewington Paris IL Hon 489
12) Grant Mccabe Minooka IL Suz 130
13) Keith Reiner Tinley Park IL Yam 726
14) Austin Raubs Cedar Falls IA Yam 360
15) Dane Grivicic Dyer IN Yam 693
16) Nicholas Spierowski Farmington IL Suz 843
17) Skee Hartmann Princeton IL Hon 147
18) Norman Larose Franklin WI Hon 29
19) Joey Ambrosini Lemont IL Kaw 237
20) Bill Loy Mokena IL Suz 6
250B
1) Jason Brewington Paris IL Hon 489
2) John Mazur Burbank IL Suz 26
3) Bryan White New Lenox IL Kaw 96
4) Michael Grebner Washburn IL KTM 52
5) Josh Decker Clinton IL KTM 74
6) Donald Saranzak Mt Prospect IL Hon 712
7) Glenn Reiner Tinley Park IL Suz 70
8) Michael Spencer Sterling IL Suz 648
9) Steve Howell Monroe Center IL Kaw 25
10) Dave Gaidamauice Alsip IL Yam 21
11) Chad Gray Metamora IL Yam 266
12) Scott Ryan Lisle IL Yam 327
13) Jason Bardoner Genoa IL Hon 439
14) Jason Antrim Chillicothe IL Yam 201
15) James Kostopoulos Woodstock IL Kaw 43
16) Matt Walraven St Charles IL Suz 118
17) Chad Pistole Ohio IL Yam 360
18) Jason Green Glenwood IL Suz 162
250C
1) Shawn Palade Derwyn IL Hon 43
2) Donald Martin Janesville WI Yam 727
3) Zack Verchimak Ancona IL Yam 295
4) Tim Lesau Joliet IL Hon 624
5) Bradley Culumber Glen Ellyn IL Hon 316
6) Frank Nadherny Yorkville IL Kaw 23
7) Marek Bak Chicago IL Hon 943
8) Eric Pigg Smithfield IL Yam 151
9) Mike Bruck Ottawa IL KTM 9
10) Scott Schnurr Lombard IL Yam 366
11) Jason Hana Batavia IL Hon 24
12) Joshua Worden Spring Valley IL Kaw 60
13) Andrew Caron Brookfield IL Kaw 330
14) Ian Vanort Willow Spring IL Suz 101
15) Matthew Caren Lagrange IL Kaw 314
16) Joe Reisch La Grange IL Yam 71
17) Joshua Kerr Princeton Hon 615
18) Chris Politsch Mendota IL Kaw 96
19) Sj Segh La Salle IL Yam 307
20) Michael Martin Ottawa IL KTM 112
21) Nicholas Christman Mendota IL Yam 140
22) Jake Wageicihowski Dalzell IL Yam 108
23) Wayne Roon Midlothian IL Kaw 226
24) Jason Landers Plainfield IL Yam 85
25) Jeremy Smith Geneseo IL Yam 188
26) Jesse Keith Ottawa IL Hon 69
27) Shane Childers Wedron IL Hon 95
28) Bob Marcuccelli Elmhurst IL ccm 122
29) Jacob Mccullough Ottawa IL KTM 26
30) Justin Ball Lombard IL Suz 132
31) Thomas Peltier Gurnee IL Yam 27
32) Richard Schoerder Batavia IL ??? 501
30+A
1) William Bowman Argenta IL Kaw 187
2) Jim Randa Sandwich IL yam 45
3) Scott Ballard Naperville IL Yam 190
4) Eriks Ezerins West Allis WI Hon 711
5) Jeff Way Burlington WI Yam 468
6) Rick Grebner Washington IL KTM 28
7) Scott Miller Naperville IL Hon 3
8) Greg Holman Lyons IL Hon 83
9) Robert Schenick Streamwood IL Yam 54
10) James Bailey Rossville IL Suz 791
11) Jason Dollas Carol Stream IL Yam 11
30+B
1) Jason Landers Plainfield IL Yam 85
2) Victor Devos Auburn IL Kaw 108
3) Peter Mineett Rockford IL Hon 188
4) Timothy Lancaster Joliet IL Yam 83
5) Scott Johnson West Chicago IL Kaw 22
6) Pete Reitsch Rockford IL Hon 700
7) Tom Grant Mark IL Hon 58
8) Michael Prettyman Fox River Grove IL Hon 156
9) Rocco Roccasalva Chicago IL Yam 140
10) Dan Myers Wilmette IL Yam 858
11) Daniel Meegan Hoffman Estates IL Kaw 65
12) Jim Alexander Chebanse IL Yam 68
13) Thomas Lee Cary IL Yam 96
14) Mike Pincon Woodstock IL Hon 344
15) Richard Monce Peoria IL Hon 147
16) Scott Schnurr Lombard IL Yam 366
4-STK B
1) Eric Foltynewicz Mendota IL Yam 140
2) James Schmidt Mendota IL hus 188
3) Zack Verchimak Ancona IL Yam 295
4) Bradley Schuessler St Louis MO Yam 824
5) Frank Orsini Ottawa IL Yam 59
6) Thomas Lee Cary IL Yam 96
7) Jason Hana Batavia IL Hon 11
8) Richard Schoerder Batavia IL hub 501
40+
1) William Clark Sandwich IL Yam 5
2) Richard Poplawski Millbrook IL Yam 2
3) David Shumway Leland IL Yam 121
4) Greg Mellinger Glen Ellyn IL Hus 25
5) Michael Dudowicz Liksle IL Yam 12
6) David Suslee Nokomis IL Yam 140
7) Tom Mcshane Aurora IL Yam 199
8) Gerhard Ward Mendota IL Hon 1
9) Orville Kline Oak Forest IL Suz 103
10) Jerry Jensen Bettendorf IA Kaw 76
11) Donald Boldan Oswego IL Yam 8
12) Thomas Peltier Gurnee IL Yam 27
13) Mark Schuabe E Dundee IL Kaw 88
14) Mark Rubenstein Chathan IL Kaw 23
15) Loren Cook Princeton IL Hon 24
50+
1) Loren Cook Princeton IL Hon 24
2) Fritz Huebner Joliet IL Hon 55
50CC PW
1) Jacob Mccullough Ottawa IL Yam 82
2) Rick Nichol Alsip IL Yam 45
3) Brett Schuld Crystal Lake IL Yam 400
4) Kelby Gann Plano IL Yam 23
5) Thomas Garrett Spring Grove IL Yam 44
6) Alex Mulligan Suz 1
7) Kory Bremer Gary IN Yam 99
50 Jr
1) Damon Sexton Kirkland IL KTM 38
2) Brennon Kershaw Hillsboro IL KTM 6
3) Steven Page Mokena IL KTM 94
4) Joshua Paris ??? 18
5) Kenneth Dage Maple Park IL ??? 14
6) Jon Williams Palos Hills IL KTM 707
7) Cody Siler Beecher IL KTM 20
8) Jake Alexander Chebanse IL ??? 268
9) Jason Paris Roscoe IL ??? 19
10) Brett Schuld Crystal Lake IL ??? 400
11) Rick Nichol Alsip IL Yam 45
50 SR
1) Kyle Corman Decatur IL cob 8
2) Tyler Baylis Somonauk IL ktm 96
3) Samantha Aunspach Des Moines IA ??? 124
4) Kyle Frasca Seneca IL cob 43
5) Benjamin Bradford Maple Park IL ??? 21
6) Ricki Williams Streator IL KTM 60
7) Cody Stum East Peoria IL ??? 3
8) Drew Yenerich New Lenox IL Kaw 17
9) Vaughn Mays Mc Henry IL ??? 81
10) Ryan Howerton Belvidere IL 16
11) Stephen Stocklen Alsip IL KTM 98
12) Amy Mellinger Glen Ellyn IL ??? 92
13) Alex Sullivan ??? 65
14) Zakkary Reaska Streator IL KTM 13
15) Neil Johnson Ottawa IL ??? 7
16) Dillon Hall Fairbury IL ??? 24
65
1) Gregory Ratliff Brideview IL Kaw 15
2) Jason' Minnaert Geneseo IL KTM 199
3) Philo Petricig Kaw 157
4) Dillon Rice Waterloo IA Kaw 11X
5) Kyle Corman Decatur IL KTM 108
6) Ty Tyrell Winslow IL Kaw 14
7) Mason Reich Metamora IL KTM 9
8) Houston Davis Ottawa IL Kaw 115
9) Adam Tarara Rockford IL Kaw 77X
10) Drew Wallace Princeton IL Kaw 41
11) Ron Mitchell Monee IL Kaw 86
12) Matthew Dissel Utica IL KTM 77
13) Bryce Bowman Argenta IL Itj 68
14) James Garrett Spring Grove IL Kaw 189
15) Cody Krause Orland Hills IL Kaw 53
16) Cody Stum East Peoria IL Kaw 39
17) Jason Bjork Kaw 82
18) Derek Ford Mchenry IL Kaw 987
19) Brandon Griffith Villa Park IL Yam 1
20) Drew Yenerich New Lenox IL Kaw 17
21) Dillon Hall Fairbury IL lem 24
22) Edward Martin Ottawa IL KTM 37
23) Nick Sullivan Winfield IL ??? 8
24) Brandon Sarver Franklin Grove IL KTM 29
25) Chris Mellinger Glen Ellyn IL ??? 80
26) Stephen Stocklen Alsip IL KTM 98
27) Ethan Martin Mokena IL Kaw 6
80 OPEN
1) Jake Fricker Lockport IL Suz 5
2) Eddie Sims Moline IL Hon 55
3) Bobby Klein Waterloo IA Yam 116
4) Matt Insco Elgin IL Suz 85
5) Mike Mitchell Monee IL Yam 88
85JR
1) Jake Fricker Lockport IL kaw 5
2) Andrew Tyrell Winslow IL Suz 1
3) Jonas Morgan Port Byron IL Kaw 48
4) Mike Mitchell Monee IL Yam 88
5) Gregory Ratliff Brideview IL Suz 15
6) Chad Westbrook Wonder Lake IL Yam 87
7) Jason' Minnaert Geneseo IL Yam 199
8) Michael Nichol Alsip IL Kaw 45
9) Ron Mitchell Monee IL Yam 186
10) Dillon Rice Waterloo IA Kaw 11X
11) Joshua Jeffrey Orland Park IL Hon 333
12) Adam Tarara Rockford IL Kaw 77X
13) Jonathan Six Ottawa IL Yam 73
14) Ryan Rogerson Montgomery IL Kaw 5X
15) Timothy Sims Moline IL Hon 55X
16) Mark Bjork Montgomery IL Yam 57
17) Bobby Klein Waterloo IA Yam 116
85SR
1) Tad Tyrrell Winslow IL Suz 41
2) Eric Ratliff Bridgeview IL Suz 48
3) Dustin Curley Bushnell IL Kaw 1
4) Daniel Biba Ottawa IL Suz 82
5) Scott Zont Algonquin IL Kaw 23
6) Justin Kelly Leland IL Yam 11
7) Eddie Sims Moline IL Hon 55
8) Corey Gatz Lombard IL Suz 101
9) Brian Davey Ottawa IL Kaw 119
10) Dustin Bartel Joliet IL Yam 36
11) Conrad Schwabe E Dundee IL Yam 88
12) Brad Moellering Elburn IL Kaw 521
13) Josh Dalpiaz E Peoria IL Yam 6
14) Matt Jakovec Montgomery IL Kaw 67
15) Nicholas Mellinger Glen Ellyn IL Kaw 49
16) Matt Insco Suz 85
17) Brian Hana Hon 8
18) Jesse Donahu Ottawa IL ??? 1X
19) Kyle Garro Princeton WI Hon 177
20) Daniel Suprenant Gary IN Hon 3
21) Devin Sturms Franklin Grove IL Yam 98
ENDURO
1) James Schmidt Mendota IL hus 188
OPEN PRO
1) Junior Jackson Moline IL Kaw 121
2) Scott Davis Yuba City CA Hon 1
3) Thomas Hofmaster Pearl City IL Hon 435
4) Brandon Bartz Colona IL Yam 966
5) Russell Ott Geneva IL Yam 44
6) Paul Philbrick Elkhorn WI Yam 858
7) Jeff Lois Elkhorn WI Hon 15
8) Matt Kirar Milwaukee WI Yam 148
9) Joshua Pistole Ohio IL Hon 78
10) Jim Randa Sandwich IL Yam 45
11) Buddy Brown Oswego IL Kaw 60X
12) William Clark Sandwich IL Yam 5
13) Nate Eslinger Ottawa IL Yam 59
14) Paul Willis Belleville IL Yam 481
15) Scott Ballard Naperville IL Yam 190
16) Bob Gardner East Peoria IL Yam 31
17) Greg Holman Lyons IL Hon 83
18) Stan Schuessler Saint Ann MO Yam 824
19) Eron Ezerins West Allis WI Hon 711
20) Jason Dollas Carol Stream IL Yam 11
21) Trevor Freerking Saint Louis MO Yam 756
22) Tom Mcshane Aurora IL Yam 199
23) Chad Merry Saint Charles MO Yam 451
SCHOOL BOY
1) Andrew Thyberg Mc Connell IL Suz 47
2) Glenn Manning Ottawa IL KTM 158
3) Kyle Lowe Ottawa IL Hon 92
4) Myles Donnell Mattoon IL Suz 66
5) Joseph Davis Orland Hills IL Yam 164
6) Damien Wallace Princeton IL Hon 491
7) T C Wilcoxen Marseilles IL Yam 78
8) Andrew Sychra Wahington IL Suz 214
9) Devin Sturms Kaw 198
10) Austin Halterman Ottawa IL Yam 154
VINTAGE
1) Peter Mineett Rockford IL Hon 188
2) Donald Martin Janesville WI Hon 881
3) Kevin Lee Lamoille IL Hon 2X
4) Michael Prettyman Fox River Grove IL Hon 156
5) Tony Smith Warrenville IL Hon 514
6) Neil Williamson Lake In The Hill IL Kaw 91
7) Samuel Esposito Aurora IL Yam 465
WOMEN
1) Philo Petricig Maple Park IL Suz 157
2) Elena Licavoli Elgin IL Suz 58
Back to Home Page