Mendota Megacross Shootout Season Opener 2004
Horton hauls at Mendota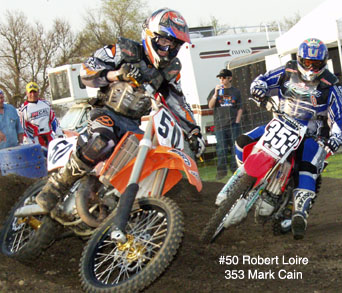 Mendota, IL April 17
By Merle Acord
ull gates and split classes were the norm at the mid-April first of ten 2004 Megacross Shootout Series "Under the lights" on the Tri- County Fair Grounds in Mendota, Illinois. Actually the fair grounds isn't in Mendota, you have to cross the street to get in the city limits! But hey, close enough that the city gets all up tight if the motos run a little late and the 350 plus riders made it tough to wrap up all that racing activity within the allotted time. But it was close; a scant twenty two minutes late thanks to a Herculean effort from Promoter Gerhard Ward an effort made possible from years of race promoting and "how to make a program work".
The track layout for this season is basically the same, lots of air over the double triples outback leading into the high speed straight past the starting gate; then a series of bowl turns, rhythm jumps, step-up table tops and that is only half a lap. In all there were nine bowl turns, interspaced with table-tops, whoops, everything that makes stadium motocross arguably the most exciting form of motorcycle racing in the world. Ward moved a couple of table tops and reworked the whoops and bowl turns. The track was fast, technical and safe. There wasn't an ambulance call the whole evening. Way to go Megacross Shootout.
Roy Horton on a Nielson Enterprise Suzuki, and 125A and 250A winner, followed Ryan Poulter off the line in the 125A main and they charged corner to corner until Ryan slid out. Then, the most frustrating of all situations for a MX racer, Ryan's 4 stroke Peak Performance Yamaha wouldn't restart. "It's just one of those nights," said Roy Horton "I'm hitting all the lines and hooking up. I give a lot of the credit to Peak Performance and how my machine is set-up. This is a good day but I've been on the other side when it's a bad day and believe me this is better. Ryan and I were having a good race in the 125A until he slid out and then his 4-stroker wouldn't restart. I got out front early in the 250A and was able to hold Ryan off."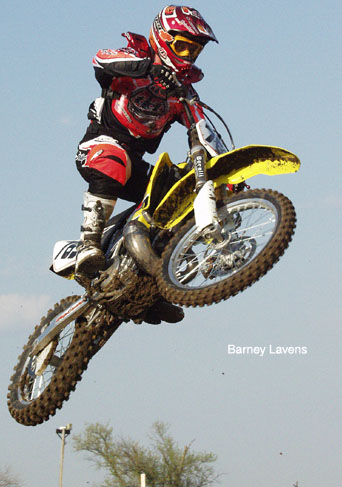 Robert Loire from Salem, Wisconsin up on a Factory Connection, Torque Center KTM, had a hole shot but it was Horton's night and the Frankfort, Illinois based Roy would not be denied, .Loire finished fourth in the 250A behind Horton, Poulter and Braet.
I had some bad luck in the 125A," said Open 4/stroke winner Ryan Poulter sponsored by Pro Source and Peak Performance. "But that is racing. I can't take anything away from Roy. In the 250's I tried my hardest but it was a little slick and I just didn't get around."
Greg Braet sponsored by Brenny's Cycle Clinic, MSR and Peak Performance, went under the checkers in third place in the 250A's and first in the +25A's said, "I did pretty good in the heats, but didn't have much luck off the gate in the main. I managed to catch and pass Robert Loire in the 250's then Ryan and I had at it, but I never got around him and finished third. Horton is doing everything right tonight. The key is getting off the gate, but I'm trying the best I can."
Robert Loire moved into second in the middle laps of the 7 lap 125A main after Poulter slid out, but Horton, in near perfect rides, never faltered and Loire followed him under the checkers for second place. Tom Demars, from Elmhurst, Illinois, Kawasaki mounted and Yamaha rider Justin Kelly rounded out the top four.
The only class that allows parents on the track is the 50cc and it's a big help to the first time racers as the parents dash from corner to corner and assist with a timely push over a large step-up. Usually it's a three lap race, not because the little persons are exhausted, they could tool around all night, it's for the sake of puffing Mom and Dad. The veterans, those who have competed in three or more events set an impossible task for Mom and Dad trying to maintain their up close corner to corner surveillance.
Brian McKay from McHenry, Illinois riding the wheels off a Cobra, aced the 50 senior class and said, "I can go faster but I just went as fast as I had to, to win. I hope to win the series this year."
Second place 50 senior rider Mason Flatness said, "I've been practicing and maybe I'll get a first this year." Robert Wehn was third
50cc Injection class winner Damon Quest from Lamoille said, "My Yamaha was flying around the track. My Dad does all my work but I want to thank Mom also." Hometown favorite Chase Sexton, who lives in Mendota, rode a Yamaha to a second place finish, with Bradi Gann third.
Brandon Pope, Levi Kipp and Thomas Garrett smoked the 65 cc class. "Really liked the turns, I don't have any trouble getting through them." said the class ace Brandon up on a Kawasaki.
Brandon Pope again went to the winner's circle this time in the 85 juniors and said, "I'm still winning and still having fun."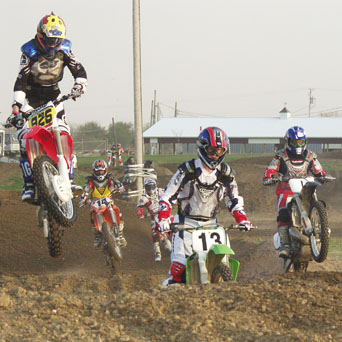 Second place 85 junior Dallas Devinney out of East Moline riding a Suzuki said, "I was riding good and I'll get him next time."
Levi Kipp third place winner said, "It was getting a little slick or I might have caught him."
The 85 senior race was tight; "I may have to get a bigger bike," said first place winner Jacob Kenyon of Stillman Valley, Illinois. "I'm getting too big for this one."
Philosophical 85 senior second place winner Justin Baker of Leland, Illinois said, "I didn't brake anything, and I finished well, so I guess you could say I had a good race." Chris Antolak and Kyle White duked it out for third and fourth with Chris getting the nod.
"I don't really know what it's going to take to beat Brandon," said second place 65cc class winner. "I think I should start by getting in better shape"
Hey, guys there are two of them! Steve Horton younger brother to Roy and riding in the B classes aboard a Nielson Enterprise Suzuki, his last season in the B's no doubt, zapped the 125B1 and 14*24 class. "I guess you could say, like Roy, I'm having a good night," said Steve. "I didn't do that well in the heat races so I was happy to get this second chance." David Lundgren of Burlington, Wisconsin was second followed by Robert Kalina of Metamora, Illinois.
"I just couldn't reel him in," said Kalina. "He's pretty fast, but I did get close enough to get roost dirt on my teeth."
125B2 winner Ryan Rogerson said, "I almost went down several times. If it gets any slicker I'm going to start throwing it sideways in the corners and riding like a flat-tracker."
"I can't get a holeshot," said Hawkeye Honda rider second place 125B2 winner Blake Martinson, "I was playing catch up all night."
"I had to work my butt off for this win," said 250C winner Eric Lange of South Wayne, Wisconsin. "It was a real rush, I love it."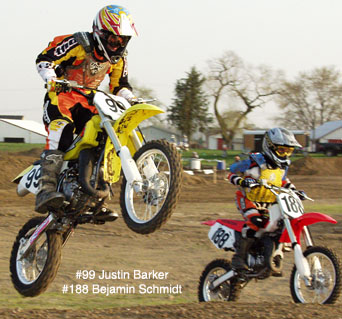 "I'm 36 years old riding in the C class and having a heck of a time," said second place 250C rider Todd Heermann. "I would like to thank Ward and Patty for putting these great races on." Rod Bartholonew rounded out the top three.
"Why am I smiling," said 125C1 rider Kris Bracken of Rockford, Illinois, "I got the win that's why I'm smiling."
"It's a little slick," said Jeremy Gauer second 125C1 rider from Yorkville, Illinois, "But that's OK and that isn't the reason I got beat; I was too slow."
"I'm still having fun," said third place 125C1 rider Neil Dornick, "So I'll keep coming back."
"I didn't do too well on the holeshot," said 125C2 winner Jake Trader of Dixon, Illinois. "But I managed to get out front in the early laps and was able to stay there and that is what counts."
Second place 125C2 rider Mike Goskusky said, "I had a couple of slip- ups, but even without them he would have beat me. He was faster."
Next Megacross Shootout Series event is May 1, come on out it's a blast.