Megacross Shootout rd 1
Modjewski, Molitor romp –
Malatia season first double winner
Megacross Shootout rd 1
Mendota, Illinois April 16
By Merle Acord,
Podium Interviews Bill Holt
he Clarion Call echoing thru the pits, "Rider's meeting in five minutes", also announced the official start of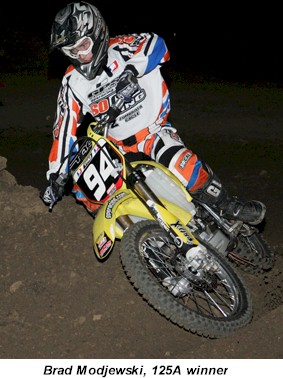 a new season for Stadium Megacross Shootout at the Tri-County half-mile track abutting Mendota, Illinois. For several reasons, three hundred plus riders heeded promoter Gerhard Ward's welcome to participate in Megacross' annual sixteenth season: First it's an excellent track and well run, and without that the rest doesn't really matter; plus Guaranteed payback, secured pits, there's lots more but those are the biggies.
"You are our first winner in 2005 at The Megacross Shootout," said the old Red Rider, veteran track announcer Bill Holt to Honda Quad A rider from Orangeville, Illinois Zack Baker. Bill shares the announcing duties with Pete "Motor Mouth" Reche. "Jeremy Beetz and I just kinda dug around during the heat race, but in the main I got the hole shot, and it's been a while since I got one of those, and I had to make it work for me, but the fooling around had to stop, if I wanted to beat Beetz," said Zack. "I would like to thank SF Racing they do my shocks for me, Tag Medals, Freeport Honda Kawasaki, and my parents."
"I got out good and got going," said Quad B main winner Justin Medine from Rochelle, Illinois. "The track got a little rough towards the end, but that was okay, it was a good course. I would like to thank, Lone Star, and IMS"
Jake Conroy second in the Quad B class said, "I didn't get all that good a start but I was able to pass a few guys, and the track was working for me tonight, so I feel pretty good about the second place. I'm getting a lot of help from FHK, Pro Graphics and Mom and Dad."
"I had a good moto," said 125A class winner Brad Modjewski. "I had a good start and was able to sneak under Kody for the lead. He stayed with me for a while but I was pushing hard trying to pull a little gap on him and feel a little more comfortable. I've been practicing at home in Hatley (Wisconsin) since the snow finally melted and I've been able to get in better shape. I would like to thank GPS Racing.com, Scott, EVS, and the girl friend."
"I got the hole shot, but I couldn't hold Modjewski off," said second place 125A class Suzuki rider from Maple Park, Illinois, Kody Molitor. "Brad just snuck right around me, and I was doing my best to catch him but he wasn't making any mistakes, but the part that bothers me is I wasn't making any mistakes either. He was just flat out flying. I would like to thank all my sponsors, Pro Source Motor Sports, all my buddies and my girl friend, I love'em all and I can't say enough."
"I didn't know what was going on in the heat race," said Greg Hochmuth of Pewaukee, Wisconsin, "Some guy had his leg stuck in my rear wheel and it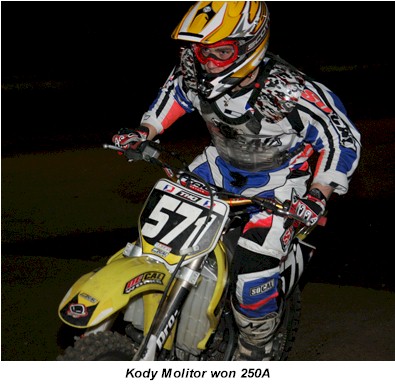 got a little confusing. I came back in the main with a so, so start and had a good race, but Modjewski and Molitor are very fast, I was playing catch up and they weren't letting up. I just came back from two months in Florida so I'm in fairly good shape. I didn't do any racing just practicing. I'm getting help from Pro Action by Lou Fowler, BRM, O Toole, Smith, and my parents."
"It was fun," said Ivey Bryce 50 senior winner. "I just got out in front and left them. We are getting help from SF Performance, Red Line Oil, and Simpson." Filling out the top three, Logan Skaggs was second followed by Blake Schaefer.
Madd Maxx Malatia, 85 junior winner and sponsored by DGY and his parents had nothing to say about the tape on his leg other than it was coming off in two days, in any event it didn't hamper his "go for it" style of riding. Maxx eased off in the heat race but pulled a hole shot in the main and was never headed.
"I was on him," said second place 65 senior Robbie Hyson of Galesburg. "But I stalled it just before the big tabletop and then hung up in a rut. It was still a good race and I had fun. I would like to thank Mom and Dad and I would take another sponsor if I could get one."
"The track is in good shape and the A riders laid in some good lines," said third 65 senior Main winner Cody Vanbuskirk. "I want to thank Mom and Dad, and Pro Action.
"I've been practicing a little and it made me a lot faster," said 65 junior winner Bryee Ivey. "I don't think it made me any faster but I had to get a new outfit this year after I outgrew last year's. I would like to thank Simpson, Red Line Oil, and Mom and Dad." Cody Williams took a solid second in the 65 juniors. Sam Bandemer of Plainfield, Illinois rounded out the top three.
"I felt like I could have been a little smoother," said +25A winner James Abbott of Hanna City, Illinois. "This is my first race outdoors this year and for the most part I felt pretty good. I'm breathing a little hard meaning I could be in a little better shape but that will come as the year goes on. I would like to thank Gary Barelli, of Meriden Street Motorsports, Axel, One Industry and Scott."
"I've been practicing all winter at WARI and it helped me to get so much faster," said Chris Antolak of St. Charles, Illinois up on a KTM. I'm getting help from Tuf Racing, UFO, Smith Goggles and all the others that I forgot."
"It was a horrible race," said Adam Tarara second in the 85 seniors. "I had a lot of fun in the heat race, but in the main I came off the gate and I'm still not too sure what happened but I almost came to a stop. It took me three laps to get around Kyle and by then Chris had pulled away. I'm getting help from Tuf Racing and Mom and Dad."
"I was pushing hard and once Adam (Tarara) got in front of me it was hard to keep pace with him and I fell back a little," said third 85 senior winner Kyle White of Freeport, Illinois. "But third place is a good finish. I've been riding with my brother and also riding a 125 and that has got me used to going faster. I'm getting help from FHK Racing, Mom and Dad and my older brother Brian."
Madd Maxx Malatia became the first double class winner of Megacross Shootout's 2005. Maxx said, "Durk got a good hole shot but he messed up and he probably would have won if he hadn't."
"I got a pretty good hole shot, but then I screwed up," said second place 85 junior Kawasaki rider Durk Roper. "I'm getting help from Cycle M, and Mom and Dad."
"It was a good ride, but I made a few mistakes," said third place 85 junior KTM rider Robbie Hyson. "We all make mistakes but the good guys seem to make fewer."
"First I want to thank Derek and his family for bringing me here, if it wasn't for them I wouldn't be here tonight," said 4/Stroke winner Kevin Markwardt of Freeport, Illinois. "I know its not nice to beat your friends after they bring you to the races, but it'll be a fun ride home that's for sure. In the last couple of weeks Dave Antolak stepped up and helped me out a lot and I really appreciate that. In this race I got out front for a change and just held my line."
Derek Whitney taking a solid second in the 4/Stroke class on a Suzuki from Wonder Lake, Illinois said, "It was a lot of fun, but it is so hard to catch anyone here once you get behind. But Kody was riding well and Kevin was awesome. I would like to thank SoCal, EVS, Motosports Factory, Clips and Pics, and Dunlop."
"I've gotta work on my starts," said third place 4/Stroke Suzuki rider Justin Kelly. "Once you get behind in this place it is hard to catch up. I would like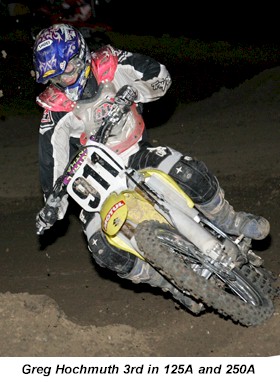 to thank Pro Source Yamaha, Suzuki, Rusty Ott, and Mom and Dad."
April Roper on a 250S Kawasaki led wire to wire in the women class. "My Dad told me to just ride fast and not to worry about anything. It worked," said April. "Now I have to do the same thing in the "C" class. I would like to thank Scott, Cycle M, and Mom and Dad."
"I'm having fun," said second in the women class BriAnn Stiles. "I'll just have to ride a little harder if I'm going to catch April. I would like to thank Mom and Dad."
"I battled in both the heat race and the main with BriAnn and it was a lot of fun," said third place Nikki Duranczyk of Beecher, Illinois. I would like to thank Gerhard Ward for giving us a ladies points' class. We had five contestants tonight and the class I'm sure will continue to grow."
"Eron Ezerins, touted as the most trophied MX rider in Wisconsin, followed Burton Lavens under the checkers in the 30A class and added another second place finish to his impressive record. "This is my first night race this year," said Eron, "I'm just trying to have a good time and get back in shape. I haven't rode since last summer except for one race last weekend. My hands are coming back a little and I'm not trying as hard as I can because I don't want to get too tired because if that happens it's all over. The last thing I want is to fall off out here with all this good competition, and I'm looking forward to coming back again. I would like to thank my sponsors, Action Power Sports, and Team VRM."
"It was tough out there mainly because there are a bunch of really fast guys here, but actually I like that it makes me my best," said 250A winner Kody Molitor of Maple Park, Illinois.
"It has been a good night," said Tad Tyrrell 250A second place winner. "I had a good start and kept Kody in sight but I never really had a chance to mount a challenge. Anyway, I'm not too disappointed with a second place finish. I would like to thank Fox Valley Cycles, and the family.
The spectators looking forward to the battle between Modjewski a test that never came to pass when Brad got boxed in on the start and then with another stroke of bad luck, was pinched off on a table top and near the back of the 19 rider 250A rider class. Brad, like a true pro, never gave up and passed to ninth, but it was just too much terrain to make up in a seven-lap race.
"I wished I had been a little smoother tonight," said third 250 A Suzuki rider Greg Hochmuth from Pewaukee, Wisconsin. I would like to thank Torque Center, O Toole, CRM, Action Power Sports, and Mom and Dad."
Results Megacross Shootout rd 1
April 16, 2005
| | | | | | | |
| --- | --- | --- | --- | --- | --- | --- |
| Megacross | | | 4-16-05 | | | Mendota IL |
| Class | Place | Name | | Rider Number | Manufacturer | City |
| 125 A | | | | | | |
| | 1 | Brad | Modjewski | 94 | Suz | Hatley |
| | 2 | Kody | Molitor | 571 | Suz | MAPLE PARK |
| | 3 | Greg | Hochmuth | 911 | Suz | Pewaukee |
| | 4 | JUSTIN | KELLY | 111 | Suz | LELAND |
| | 5 | KEVIN | MARKWARDT | 112 | Suz | FREEPORT |
| | 6 | Jonathan | Six | 73 | Kaw | OTTAWA |
| | 7 | Tad | Tyrrell | 402 | Hon | WINSLOW |
| | 8 | DEREK | WHITNEY | 95 | Suz | WONDER LAKE |
| | 9 | BLAKE | MARTINSON | 926 | Hon | BETTENDORF |
| | 10 | DANIEL | BIBA JR | 82 | Kaw | Marseilles |
| | 11 | BRIAN | WHITE | 611 | Hon | Orangeville |
| | 12 | MATT | MELLOTT | 726 | Yam | MENDOTA |
| | 13 | Jacob | Lustig | 167 | Suz | EFFINGHAM |
| | 14 | Michael | Hall | 513 | Suz | Racine |
| | 15 | Wesley | Parker | 891 | Suz | |
| | 40 | Jason | Donegan | 987 | Yam | MT.MORRIS |
| 125 B | | | | | | |
| | 1 | Ty | Tyrrell | 402 | Hon | Winslow |
| | 2 | Jeremiah | Johnson | 109 | Hon | ELBURN |
| | 3 | Kyle | White | 227/ | Hon | FREEPORT |
| | 4 | Travis | Kelsey | 488 | Hon | PECATONICA |
| | 5 | Charles | Harpe | 14 | Hon | Salem |
| | 6 | Tyler | Venier | 336 | Hon | DIXON |
| | 7 | Adam | Tarara | 25 | Kaw | ROCKFORD |
| | 8 | Christopher | Antolak | 45 | Ktm | ST.CHARLES |
| | 9 | Carmen | Manno | 115 | Yam | ST CHARLES |
| | 10 | Nick | Manning | 139 | Hon | Ottawa |
| | 11 | Brad | Fabrizius | 300 | Hon | Maple Park |
| | 12 | Mike | Chrisos | 498 | Hon | Woodstock |
| | 13 | Brandon | Hastings | 79 | Hon | LENA |
| | 14 | Michael | Nichol, Jr | 288 | Hon | ALSIP |
| | 15 | Curtis | Libby | 222 | Hon | Rockford |
| 125 B2 | | | | | | |
| | 1 | Justin | Baker | 99 | Suz | LELAND |
| | 2 | James | Garrett | 189 | Suz | SPRING GROVE |
| | 3 | Derik | Kostellic | 22 | Kaw | OGLESBY |
| | 4 | Jefferey | Pabian | 503 | Kaw | OTTAWA |
| | 5 | Guy | DiVittorio | 42 | Yam | Sandwich |
| | 6 | Wyatt | Hall | 227 | Yam | LELAND |
| | 7 | Neil | Dornik | 445 | Kaw | OGLESBY |
| | 8 | Joseph | Kopecky | 131 | Yam | LOMBARD |
| | 9 | Mike | Goskusky | 112 | Yam | TONICA |
| | 10 | Kris | Bracken | 257 | | ROCKFORD |
| | 11 | TYLER | KNOWLTON | 196 | Kaw | MENDOTA |
| | 12 | Jeremiah | Pumfrey | 174 | Kaw | Oregon |
| | 13 | Tyler | Hunter | 587 | Yam | Princeton |
| | 40 | Jen | Caret | 73 | Yam | |
| | 40 | Rick | Kniaz, Jr | 43 | Yam | DesPlaines |
| 125 C | | | | | | |
| | 1 | JAKE | TRADER | 336 | Hon | DIXON |
| | 2 | Joe | Geekie | 16 | Hon | Kankakee |
| | 3 | Zach | Ciszewski | 595 | Suz | |
| | 4 | Logan | Schmidt | 188 | Yam | Mendota |
| | 5 | Cody | Ciszewski | 297 | Suz | |
| | 6 | David | Mapes | 119 | Hon | |
| | 7 | Ty | Sitter | 571 | Kaw | Twin Lakes |
| | 8 | Justin | Gauer | 30 | Hon | YORKVILLE |
| | 9 | Corey | Knott | 186 | Kaw | Ottawa |
| | 10 | Michael | Monn | 39 | Yam | LaSALLE |
| | 11 | Kevin | Masching | 922 | Yam | |
| | 12 | Carl | Saxson | 717 | Hon | |
| | 13 | Joel | Miller | 938 | Ktm | LaSalle |
| | 14 | Philip | Buffo | 57 | Kaw | Peru |
| | 15 | CJ | Lyon | 421 | Kaw | |
| | 16 | Johnny | Holy | 98 | Yam | |
| | 17 | Nick | Laughlin | 178 | Suz | |
| | 40 | April | Roper | 15 | Kaw | WINNEBAGO |
| 14*24 | | | | | | |
| | 1 | Ty | Tyrrell | 402 | Hon | Winslow |
| | 2 | James | Garrett | 189 | Suz | SPRING GROVE |
| | 3 | Justin | Baker | 99 | Suz | LELAND |
| | 4 | Jesse | Keith | 69 | Hon | OTTAWA |
| | 5 | GUY | DI VITTORIO | 42 | Yam | GENEVA |
| | 6 | Chad | Baker | 614 | Hon | Orangeville |
| | 7 | JEREMY | GAUER | 148 | Yam | YORKVILLE |
| | 8 | Travis | Kelsey | 488 | Hon | PECATONICA |
| | 9 | Brandon | Boggio | 311 | Hon | Standard |
| | 10 | Kris | Bracken | 257 | Suz | ROCKFORD |
| | 11 | Joseph | Kopecky | 131 | Yam | LOMBARD |
| | 12 | Randy | Riveland | 725 | Suz | SERENA |
| | 13 | Robbie | Geekie | 12 | Hon | KANKAKEE |
| | 14 | LUKE | KASZYNSKI | 47 | Yam | |
| | 15 | Zach | Ciszewski | 595 | Suz | |
| | 16 | Adam | Therriault | 914 | Yam | Sheridan |
| | 17 | Cody | Ciszewski | 297 | Suz | |
| | 18 | Joe | Geekie | 16 | Hon | Kankakee |
| | 40 | | | 42 | Yam | Sandwich |
| | 40 | Rick | Kniaz, Jr | 43 | Yam | DesPlaines |
| | 40 | Jen | Caret | 73 | Yam | |
| 25+ A | | | | | | |
| | 1 | JAMES | Abbott | 707 | Yam | Hanna City |
| | 2 | JASON | KLOPTOWSKY | 410 | Hon | OAK LAWN |
| | 3 | Eron | Ezerins | 700 | Suz | |
| | 4 | Caleb | Russell | 66 | Hon | Sandwich |
| | 5 | Burton | Lavens | 763 | Suz | OGLESBY |
| | 6 | Shawn | Schaefer | 50 | Yam | |
| | 7 | Tim | Filippi | 437 | Yam | Rockfalls |
| | 8 | Michael | Hall | 513 | Suz | Racine |
| | 9 | John | Stewart | 311 | Hon | |
| | 10 | John | Conley | 160 | Hon | Aurora |
| | 11 | Daniel | O Connor | 719 | Suz | ORLAND PARK |
| | 12 | AREK | KRUK | 790 | Suz | Worth |
| | 13 | DAVID | HAYES | 63 | Kaw | STEWARD |
| | 14 | Timothy | Lancaster | 428 | Suz | OTTAWA |
| | 15 | Kevin | Lee | 712 | Suz | LAMOILLE |
| | 40 | ERIC | FOLTYNEWICZ | 598 | Yam | Mendota |
| 25+ B | | | | | | |
| | 1 | Keir | Sexton | 286 | Suz | MENDOTA |
| | 2 | Steve | Perkins | 164 | Yam | Hinckley |
| | 3 | Jordan | Krisch | 123 | Yam | Somonauk |
| | 4 | Zachary | Plym | 127 | Hon | SEATONVILLE |
| | 5 | Brian | Goodin | 266 | Yam | Sheridan |
| | 6 | Troy | Quest | 18 | Yam | LAMOILLE |
| | 7 | BRIAN | SARTAIN | 117 | Kaw | LADD |
| 250 A | | | | | | |
| | 1 | Kody | Molitor | 571 | Suz | MAPLE PARK |
| | 2 | Tad | Tyrrell | 402 | Hon | WINSLOW |
| | 3 | Greg | Hochmuth | 911 | Suz | Pewaukee |
| | 4 | KEVIN | MARKWARDT | 112 | Suz | FREEPORT |
| | 5 | DEREK | WHITNEY | 95 | Suz | WONDER LAKE |
| | 6 | BLAKE | MARTINSON | 926 | Hon | BETTENDORF |
| | 7 | ANDY | THYBERG | 347 | Hon | MC CONNELL |
| | 8 | JUSTIN | KELLY | 111 | Suz | LELAND |
| | 9 | Brad | Modjewski | 94 | Suz | Hatley |
| | 10 | Caleb | Russell | 66 | Hon | |
| | 11 | Andrew | Tyrrell | 278 | Hon | WINSLOW |
| | 12 | JASON | KLOPTOWSKY | 410 | Hon | OAK LAWN |
| | 13 | Burton | Lavens | 763 | Suz | OGLESBY |
| | 14 | Jetti | Pifer | 356 | | Morris |
| | 15 | Wesley | Parker | 891 | Suz | |
| | 16 | Jason | Donegan | 987 | Yam | MT.MORRIS |
| | 17 | BRIAN | WHITE | 611 | Hon | Orangeville |
| | 18 | Michael | Hall | 513 | Suz | Racine |
| | 19 | Jonathan | Six | 73 | Kaw | OTTAWA |
| 250 B | | | | | | |
| | 1 | Jeremiah | Johnson | 109 | Hon | ELBURN |
| | 2 | Charles | Harpe | 14 | Hon | Salem |
| | 3 | Jesse | Keith | 69 | Hon | OTTAWA |
| | 4 | Jacob | Faivre | 484 | Hon | DE KALB |
| | 5 | Wyatt | Hall | 227 | Suz | LELAND |
| | 6 | Matt | Entwistle | 228 | Kaw | OGLESBY |
| | 7 | Randy | Riveland | 725 | Suz | SERENA |
| | 8 | Bill | Chrisos | 261 | Hon | Woodstock |
| | 9 | Jordan | Krisch | 123 | Yam | Somonauk |
| | 10 | Matt | Jakovec | 621 | Yam | Montgomery |
| | 11 | ADAM | RAKOWSKI | 63 | Yam | Cherry |
| | 40 | Keir | Sexton | 286 | Suz | MENDOTA |
| | 40 | James | Bagby | 326 | Yam | Chenoa |
| | 40 | Austin | Halterman | 154 | Hon | LaSalle |
| 250 C | | | | | | |
| | 1 | JEREMY | GAUER | 148 | Hon | YORKVILLE |
| | 2 | David | Mapes | 119 | Hon | |
| | 3 | Joey | Zimmerman | 118 | Hon | El Paso |
| | 4 | Billy | MCCAULEY | 231 | Hon | Minooka |
| | 5 | Jake | Miller | 746 | Hon | MENDOTA |
| | 6 | ZACHARY | MCCOY | 364 | Yam | SANDWICH |
| | 7 | Robbie | Geekie | 12 | Hon | KANKAKEE |
| | 8 | Kevin | Smith | 10 | Yam | St. Charles |
| | 9 | Adam | Therriault | 914 | Yam | Sheridan |
| | 10 | John | Fabrizius | 19 | Hon | |
| | 11 | Brian | Goodin | 266 | Yam | Sheridan |
| | 12 | JAKE | TRADER | 247 | Hon | DIXON |
| | 13 | Jim | Mosley | 236 | Hon | |
| | 14 | Steve | Perkins | 164 | Yam | Hinckley |
| | 15 | DON | MCCAULEY | 701 | Hon | Crete |
| | 16 | Marc | Steketee | 686 | Hon | Oswego |
| | 17 | Mike | Lincoln | 68 | Yam | Peru |
| | 18 | Alan | Fredrick | 25 | Hon | |
| | 19 | Jake | Wojciechowski | 108 | Hon | Dalzell |
| | 20 | Jason | Dehm | 85 | Hon | Chenoa |
| | 21 | Gary | Urbahn | 725 | Yam | Hinckley |
| 30+ A | | | | | | |
| | 1 | Burton | Lavens | 763 | Suz | OGLESBY |
| | 2 | Eron | Ezerins | 700 | Suz | |
| | 3 | JAMES | Abbott | 707 | Yam | Hanna City |
| | 4 | Tim | Filippi | 437 | Yam | Rockfalls |
| | 5 | John | Stewart | 311 | Hon | |
| | 6 | Daniel | O Connor | 719 | Suz | ORLAND PARK |
| | 7 | DAVID | HAYES | 63 | Kaw | STEWARD |
| | 8 | AREK | KRUK | 790 | Suz | Worth |
| | 9 | John | Conley | 160 | Hon | Aurora |
| | 10 | D.BRANDON | JEFFERY | 996 | Yam | DIXON |
| | 11 | Timothy | Lancaster | 428 | Suz | OTTAWA |
| | 12 | Jason | Bishop | 177 | Suz | Viola |
| | 13 | Kevin | Lee | 712 | Suz | LAMOILLE |
| | 14 | Roy | Bittner | 21 | Hon | PEOTONE |
| 30+ B | | | | | | |
| | 1 | Keir | Sexton | 286 | Suz | MENDOTA |
| | 2 | Troy | Quest | 18 | Yam | LAMOILLE |
| | 3 | Todd | Heermann | 102 | Hon | OTTAWA |
| | 4 | Joe | Smith | 191 | Yam | ROCHELLE |
| | 5 | Marc | Steketee | 686 | Hon | Oswego |
| | 6 | Brett | Wilkinson | 951 | Hon | Oswego |
| | 7 | James | Schmidt | 628 | Hon | Mendota |
| 40+ | | | | | | |
| | 1 | Roy | Bittner | 21 | Hon | PEOTONE |
| | 2 | Ernie | Stiles | 34 | Yam | ORION |
| | 3 | Joe | Lanute | 959 | Hon | WARRENVILLE |
| | 4 | James | Schmidt | 628 | Hon | Mendota |
| | 5 | David | Suslee | 34 | Yam | Nokomis |
| 4-Stroke | | | | | | |
| | 1 | KEVIN | MARKWARDT | 112 | Suz | FREEPORT |
| | 2 | DEREK | WHITNEY | 95 | Suz | WONDER LAKE |
| | 3 | JUSTIN | KELLY | 111 | Suz | LELAND |
| | 4 | Kody | Molitor | 571 | Suz | MAPLE PARK |
| | 5 | Jetti | Pifer | 356 | Hon | Morris |
| | 6 | Andrew | Tyrrell | 278 | Hon | WINSLOW |
| | 7 | MATT | MELLOTT | 746 | Hon | MENDOTA |
| | 8 | Jacob | Faivre | 484 | Hon | DE KALB |
| | 9 | Jeremiah | Pumfrey | 174 | Kaw | Oregon |
| | 40 | Kevin | Smith | 10 | Yam | St. Charles |
| 4-Wheel A | | | | | | |
| | 1 | Zack | Baker | 98 | Hon | Orangeville |
| | 2 | Nick | Mardis | 311 | Hon | Mackinaw |
| | 3 | Jeremy | Beetz | 255 | cat | MENDOTA |
| | 4 | Tracy | Payton | 53 | Hon | ALGONQUIN |
| | 5 | Mark | Brennan | 777 | Yam | Bolingbrook |
| | 6 | Thomas | Holder | 44 | Hon | Rochelle |
| | 7 | Seth | Fligge | 51 | Hon | Mackinaw |
| | 40 | LEN | PLAZA | 7 | Hon | CRYSTAL LAKE |
| 4-Wheel B | | | | | | |
| | 1 | Justin | Medine | 129 | Yam | Rochelle |
| | 2 | Jacob | Conroy | 75 | Hon | Freeport |
| | 3 | Jason | Shearer | 51 | Hon | Sycamore |
| | 4 | Andy | Schmitt | 28 | Hon | MC HENRY |
| | 5 | Clinton | Sutlon | 722 | Yam | |
| | 6 | DAN | SHAPIRO | 27 | Hon | Tinley Park |
| | 7 | Bob | Profeta | 343 | Yam | |
| | 8 | Brandon | Bracken | 136 | Hon | ROCKFORD |
| 4-Wheel C | | | | | | |
| | 1 | Jeff | Juran | 337 | Yam | |
| | 2 | Matt | Fabrizias | 57 | Hon | |
| | 3 | Dan | Jones | 44/ | Suz | Seneca |
| | 4 | Ryan | Crouch | 125 | Hon | Princeton |
| | 5 | James | Shaw III | 44 | Suz | Dalzell |
| | 6 | Rick | Pacione | 13 | Yam | Dalzell |
| | 7 | Rick | Schroeder | 450 | Yam | Aurora |
| | 8 | Ryan | Ellingson | 63 | Hon | |
| | 40 | Gareth | Stamm | 321 | Suz | Crest Hill |
| | 40 | Thomas | Funssimn | 41 | Yam | |
| 50 Inj | | | | | | |
| | 1 | Jackson | Jeffery | 996 | Ktm | Dixon |
| | 2 | DJ | Smith | 454 | Ktm | Zion |
| | 3 | Tanner | Chada | 100 | Yam | |
| | 4 | Tristan | Frazier | 99 | Ktm | Pontiac |
| | 5 | Nickolas | Christman | 716 | Yam | |
| 50 Jr | | | | | | |
| | 1 | Jono | Mandelke | 86 | Cob | GURNEE |
| | 2 | Chase | Sexton | 486 | Ktm | Mendota |
| | 3 | Nick | Wallace | 23 | Ktm | Rockford |
| | 4 | RJ | Mackenzie | 52 | Ktm | Freeport |
| | 5 | Jackson | Jeffery | 996 | Ktm | Dixon |
| | 6 | Joseph | Rakowski | 63 | Ktm | |
| | 7 | DJ | Smith | 454 | Ktm | Zion |
| | 8 | Nickolas | Christman | 716 | Ktm | |
| 50 Sr | | | | | | |
| | 1 | Bryce | Ivey | 64 | Lem | Rockfalls |
| | 2 | Logan | Skaggs | 97 | Ktm | Sandwich |
| | 3 | Blake | Schaefer | 16 | Cob | MC HENRY |
| | 4 | Tom | Jungles III | 98 | Lem | Morris |
| | 5 | Zachary | Sawko | 94 | Cob | |
| | 6 | Jordan | Clam | 88 | Lem | |
| | 7 | Connor | Dahms | 44 | Ktm | Montgomery |
| | 8 | Damon | Quest | 78 | Ktm | LAMOILLE |
| | 9 | TREVOR | HAYES | 63 | Ktm | STEWARD |
| | 10 | Tanner | Schwartzbach | 118 | Cob | WEST BROOKLYN |
| | 11 | Jeffrey | Urbahn | 399 | Ktm | Hinckley |
| | 12 | Wes | Williams | 267 | po | Barnwell |
| 65 Jr | | | | | | |
| | 1 | Bryce | Ivey | 64 | | Rockfalls |
| | 2 | Cody | Williams | 167 | Ktm | BARNEVELD |
| | 3 | Sam | Bandemer | 44 | Suz | PLAINFIELD |
| | 4 | Steve | Simmons | 914 | Suz | |
| | 5 | David | Rakowski | 313 | Ktm | Beecher |
| | 6 | Samantha | Mandelke | 63 | Suz | Gurnee |
| | 7 | COLTON | BEARD | 49 | Kaw | OGLESBY |
| | 40 | Dillon | Schacht | 175 | Ktm | Plainfield |
| 65 Sr | | | | | | |
| | 1 | Maxx | Malatia | 15 | Ktm | ITASCA |
| | 2 | ROBBIE | HYSON | 4 | Ktm | ROCKFORD |
| | 3 | Cody | VanBuskirk | 722 | Ktm | Harvard |
| | 4 | Rick | Nichol | 994 | Ktm | ALSIP |
| | 5 | Samuel | Alvarado | 135 | Kaw | Manhattan |
| | 6 | Tory | Snick | 76 | Ktm | ITASCA |
| | 7 | Jesse | Schroedor | 99 | Suz | Peotone |
| | 8 | Michael | Cingrani | 57 | Kaw | |
| | 9 | ROBERT | W EHN JR | 199 | Ktm | LEMONT |
| | 10 | Michael | Larson | 119 | | |
| 65cc Beg | | | | | | |
| | 1 | Logan | Skaggs | 97 | Ktm | Sandwich |
| | 2 | Zachary | Sawko | 94 | Kaw | |
| | 3 | Travis | Ward | 31 | Hon | MENDOTA |
| | 4 | Nicholas | Ryman | 111 | Kaw | Machesney Park |
| | 5 | Joey | Lanute | 108 | Kaw | WARRENVILLE |
| | 6 | Jimmy | Lanute | 113 | Suz | WARRENVILLE |
| | 7 | Kelly | Christman | 598 | Yam | |
| | 40 | Cody | Michaels | 109 | Kaw | |
| 85 Jr | | | | | | |
| | 1 | Maxx | Malatia | 144 | Hon | ITASCA |
| | 2 | Durk | Roper | 93 | Kaw | WINNEBAGO |
| | 3 | ROBBIE | HYSON | 4 | Ktm | ROCKFORD |
| | 4 | Cody | VanBuskirk | 722 | Hon | Harvard |
| | 5 | Thomas | Garrett | 189 | Suz | SPRING GROVE |
| | 6 | Taylor | Dahms | 21 | Suz | Montgomery |
| | 7 | Dalton | Abbott | 707 | Yam | Trivoli |
| | 8 | Jesse | Schroedor | 100 | Hon | Peotone |
| | 9 | ROBERT | W EHN JR | 199 | Yam | LEMONT |
| | 9 | Robert | When, Jr | 199 | Yam | LEMONT |
| | 10 | Brandon | Pagni | 601 | Suz | Capron |
| | 11 | Michael | Cingrani | 57 | Kaw | |
| 85 Sr | | | | | | |
| | 1 | Christopher | Antolak | 45 | Ktm | ST.CHARLES |
| | 2 | Adam | Tarara | 25 | Kaw | ROCKFORD |
| | 3 | Kyle | White | 227 | Hon | FREEPORT |
| | 4 | Jacob | Weber | 614 | Suz | Channahon |
| | 5 | Broc | Pagni | 601 | Suz | Capron |
| | 6 | Jake | Flosh | 176 | Kaw | |
| | 7 | Manuel | Alvarado | 158 | Yam | Manhattan |
| | 8 | Blake | Couch | 77 | Kaw | MARSEILLES |
| | 9 | Jakub | Baker | 122 | Suz | LELAND |
| | 10 | Jordan | Skiles | 75 | Yam | Illinois City |
| | 11 | Benjamin | Schmidt | 308 | Hon | MENDOTA |
| | 12 | Cody | Snick | 222 | Yam | ITASCA |
| | 13 | Cody | Jones | 14 | Kaw | |
| | 14 | Keagan | Schmidt | 301 | Kaw | Mendota |
| | 15 | JOE | CINGRANI | 371 | Kaw | CHICAGO |
| | 16 | Josh | Ellingson | 22/ | Hon | Monroe |
| | 17 | Neil | Johnson | 104 | Suz | |
| | 18 | Cory | Auer | 86 | Hon | Orangeville |
| | 19 | Cord | Clemens | 18 | Hon | |
| | 20 | Jake | Thompson | 148 | Yam | West Brooklyn |
| | 21 | Matt | Simmons | 22 | Suz | St. Charles |
| Women | | | | | | |
| | 1 | April | Roper | 15 | Kaw | WINNEBAGO |
| | 2 | BriAnn | Stiles | 3 | Yam | ORION |
| | 3 | Nikki | Duranczyk | 102 | Yam | Beecher |
| | 4 | Theresa | Lanute | 915 | Ktm | WARRENVILLE |
| | 5 | Danielle | Wilkinson | 74 | Hon | Oswego |