This late in the season, with the abnormally dry and hot weather, promoter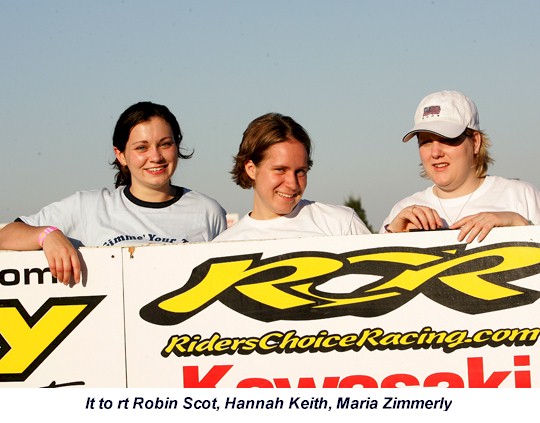 Gerhard Ward was pleasantly surprised with the 250-rider turnout at the MegaX rd 8 Shootout Series. Ross Martin has nailed the 125 and 250A class series, but the other classes are still up for grabs, and any serious series rider will tell you: First you have to be fast in your class to win a series and then you have to show up. You can't win if you don't ride.
Who is going to beat him? Him! Champion snowmobile racer and Megacross Shootout Series point's leader Ross Martin, that him. Maybe the A class's salvation will be an early snow and he'll go back to the snowmobiles? But that is doubtful
Ross Martin 125A winner is a fantastic starter with the nerves of a cat burglar and once out front doesn't run away from the competition, he inches away. The super smooth talent from Pleasant Prairie, Wisconsin hits his lines lap after lap and his lead goes from inches to feet to yards and with it the feeling of frustration wells up in the second place rider and more often than not results in pushing a little harder, taking chances not normally taken in an effort to reel in the fading figure from the North. But that's not the end of it; if Martin is caught up with there's still the problem of making the pass and if it does happen another problem; staying out front. Martin is an aggressive rider and aims to win. That is what he's there for so look out. Nothing illegal, just good hard bump and grind racing; Ross believes the number one spot is his.
Kody Molitor second place 125A winner doesn't think the number one spot should have one owner and for the first few laps of the main doggedly pursued Martin but made a few mistakes and let him get away. Justin Kelly third place winner in the 125A's was just as determined but also let him slip away in the later laps.
"I was down in practice," said Brandon Bracken 4-wheel B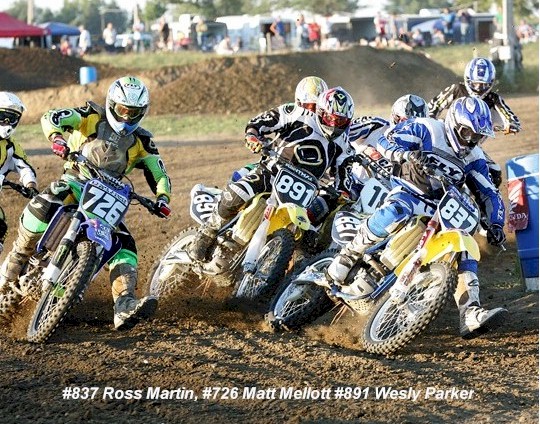 class winner, " but it came thru for me when I needed it. I would like to thank 4Play Racing and Mom and Dad."
Brandon Johnson aced the 4-wheel heat race and roared off the gate in the main and went straight to the checkers for his second win of the night. "I was never in any trouble," said Johnson, "but Schenk defiantly kept me honest."
"It's hard to get around a guy when you are riding the same speed and taking the same lines," said second place 4-Wheel C class winner Stephen Schenk. "He was blocking all my lines of course but I had to stay right there to take advantage of any mistakes he would make, only, he didn't make any. I would like to thank 4-Play Racing, and my Dad for helping me out so much ever weekend."
"I got caught back in the fifth spot off the gate," said third place C class winner Jim Shaw, "and I had to work my way through the pack. Got to watch that moving through the pack they'll want to move me up to A. Maybe not a bad idea, I could make some money."
"I had some fun," said 50 senior main winner Bryce Ivey, "But that's the way it's suppose to be. I would like to thank Tiny Tim and Mom and Dad."
"He got out in front and I just couldn't get around him," said second place 50 senior rider Chad West. "Maybe next time a I'll be the one out front? I would like to thank Mom and Dad, Scott Goggles, Fly and Twin Air."
"I got to get better hole shots," said third place Dillon Schacht, " But I didn't want to run into anyone on the start. I would like to thank my Mom and Dad.
Hard to believe but the super fast "Madd Maxx" Malatia, for whatever reason, didn't qualify for Loretta Lynn's AMA Amateur National, but it didn't hurt his performance tonight. Maxx took over the lead in the early laps and cruised to the 65 senior win.
"I had fun over the big jumps," said 65 senior second place winner Robbie Hyson. "I would like to thank Paint Works, SoCal- DeCal, and Mom and Dad."
The +25A arguably the race of the night was a tight four way run for the lead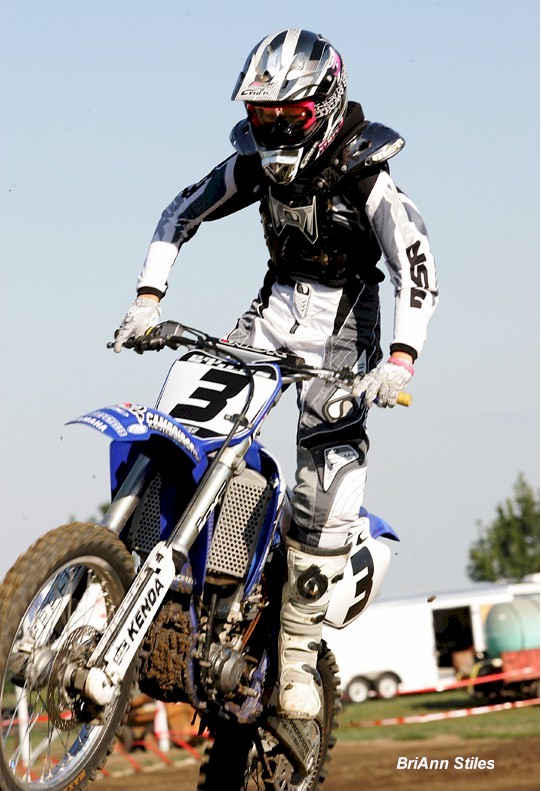 in the early laps. Wesley Parker fended off the persistent fender rubbing of Yamaha rider James Abbott until late in the run before relenting and letting the lead get away. Todd Sheedy riding for Parts Unlimited didn't give up without a battle before losing his third place bid to the unrelenting Suzuki rider Barney Lavens.
"Every time I race this guy (James Abbott) it always this close" said 25A winner Wesley Parker . "When James got around I figured since it was getting a little slick out there I wasn't going to take a chance on falling down and maybe finish sixth or so, so I let him go. Maybe next time I'll get him? I would like to thank UFO, Works Connection and Renthal."
"I've raced the last 3 or 4 weekends and that is what it takes to come out here and feel good and have the confidence that you are going to win," said 25A winner James Abbott. "I would like to thank Gary Borelli for taking care of my suspension, Pro Motor Sports in Burlington, Iowa, Scott Goggles, and One Industries."
Chris Antolak and Broc Pagni came together in the bowl turn on the white flag lap halfway though the white flag lap. "I kept trying to get around him and couldn't," said 85 senior winner Antolak. "So I moved him over a little on the last lap. I don't think he's too happy about the pass but I didn't knock him down or anything. I would like to thank Alpine Star, Pro Circuit and Tuf Racing."
"I had a big enough lead that I didn't have to push and worry about falling down and finishing second," said BriAnn Stiles women's class winner I want to thank my parents for getting me here, Scott and anyone else that I forgot."
"I couldn't believe it, there were 15 ladies on the line. We were one of the biggest classes on the line," said second place Yamaha 250 rider Nikki Duranczyk. "I'm getting married in three weeks so I'll take a little break but of course I wont quit racing." (Congratulations Nikki and we only hope he's named Smith or Jones or something like that) "I would like to thank Answer, One Industries, and SoCal DeCal."
"I haven't been riding for a couple of weeks," said 125B winner, " and my arms were giving out about half way through the race. I would like to thank Suzuki of Northern Illinois, Full Throttle Racing and of course my parents, couldn't to it without them."
"I felt really good out there and I rode my own race," said Ross Martin double class winner in the 125 and 250A's.
"I like this four fifty Suzuki," said second place 250A winner Justin Kelly. " It hooks up real well coming out of the corners. I would like to thank Rusty Ott, and Mom and Dad.
"I thought this was going to be one of my good nights but it didn't work out that way," said third place 250A winner Kody Molitor. "It started out good but then it got away from me. I would like to thank SoCal DeCal and all my family."
"I felt bad about banging into Nick," said second place125C rider Logan Schmidt, "but we were just banging around out there and I didn't mean anything by it. I'm getting some help from Gary Borelli and Mom and Dad.
"The last time I was here I got a second," said 125C winner Joe Geekie, "but this time I got the good hole shot and led the whole way. My Dad should feel good about that because he really wanted me to get the hole shot. I would like to thank DGY, Pro Source, and Mom and Dad."